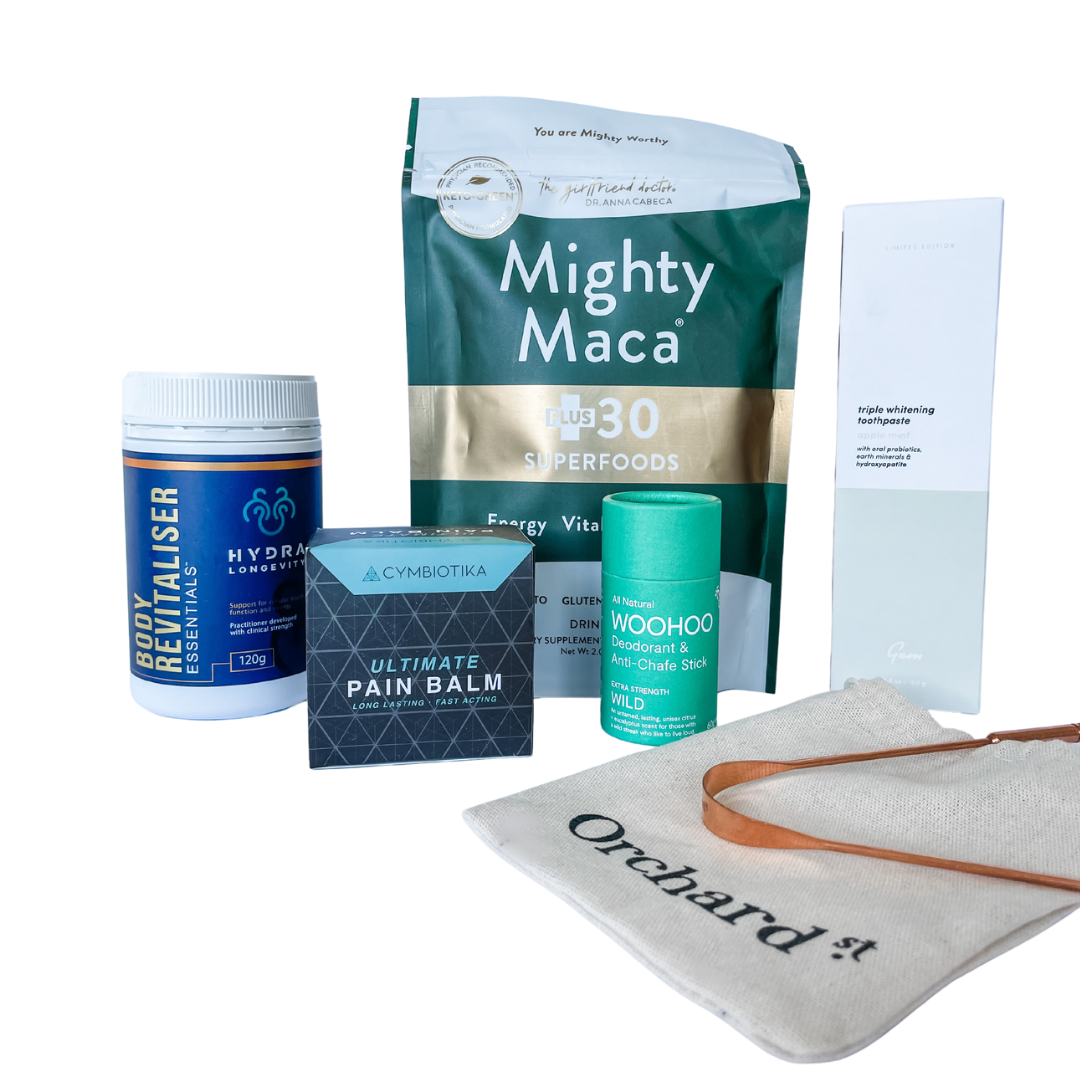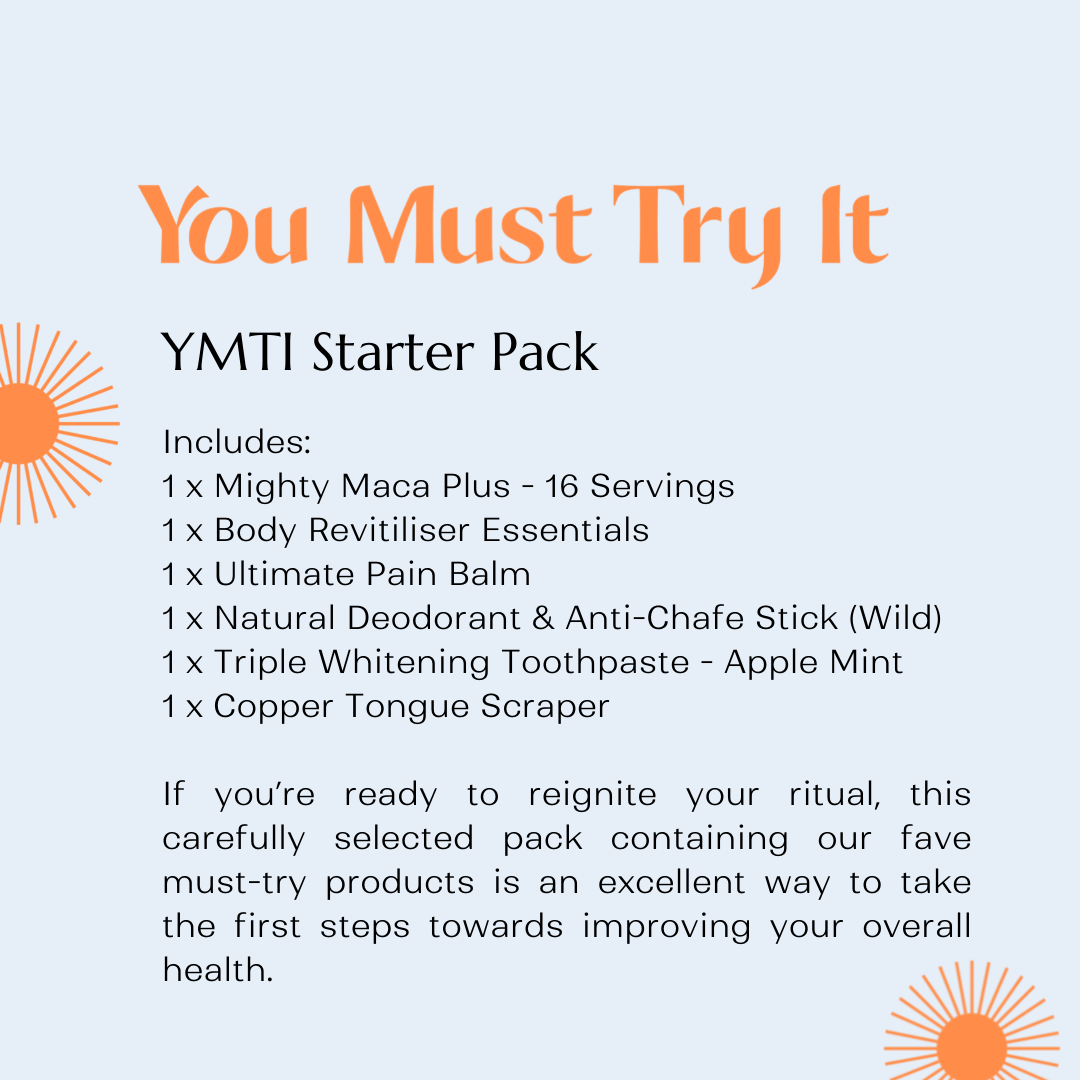 YMTI Starter Pack
If you're ready to reignite your ritual, this carefully selected pack containing our fave must-try products is an excellent way to take the first steps towards improving your overall health.

Pack includes:
1 x Mighty Maca Plus - 16 Servings
Formulated by Dr. Anna Cabeca, Mighty Maca Plus with 30+ superfoods works to increase energy and vitality while supporting detoxification, alkalinity, and hormone balance. It also fights free radicals, neutralises lactic acid, improves digestion, and reignites your libido.


1 x Body Revitiliser Essentials
Formulated by a clinical naturopath and longevity specialist, this powerful blend of natural functional foods in therapeutic doses combats mental and physical fatigue, stress, and general feelings of 'blah' to help you bounce back to feeling great.


1 x Ultimate Pain Balm
Infused with powerful plant compounds and stem cells that relieve pain, this medicinal balm penetrates deep below the skin to relax and warm muscles while reducing inflammation. This fabulous formula helps relieve pain associated with tension headaches, menstruation, rheumatoid arthritis, and gout.


1 x Woohoo Natural Deodorant & Anti-Chafe Stick (Wild)
The zesty citrus Wild stick is Woohoo's best-selling deodorant because of its incredible extra strength body-odour busting powers that work all day long, and then some.


1 x Gem Triple Whitening Toothpaste - Apple Mint
All the fresh with none of the tox! Gem's fluoride-free toothpastes are all-natural, and they work. With the inclusion of an oral probiotic to boost the health of your mouth, every ingredient is carefully selected and backed by scientific research.


1 x Copper Tongue Scraper
Tongue scraping is a traditional Ayurvedic ritual to rid the mouth of harmful substances - gently detoxifying your tongue while enhancing your sense of taste. Scrape away debris, build-up, and volatile oils, and freshen your breath at the same time.
Mighty Maca Plus (16 Servings - 57.6g) - It's really simple: the most basic way would be to mix 1-2 scoops of Mighty Maca® Plus with water. You can also blend it with greens, protein powder avocado or fruit to create your Super Smoothie. For an energy elixir, mix a scoop of Mighty Maca® Plus, one spoon of apple cider vinegar and squirt of lemon juice in water.

Body Revitiliser Essentials 120g - Servings per package: 120g - 12 (12 days); 300g - 30 (30 days) Serving size: Mix 10g (3 scoops) with 350 - 450mls of water or your favourite beverage, stir well. Also perfect for adding to your smoothie. Consume one serve daily or as directed by a health care professional.

Ultimate Pain Balm - Apply balm liberally and gently massage the affected area* Do not use on broken skin or mucous membranes. Wash hands after application and avoid contact with eyes. Repeat daily, as needed. Store in a cool, dry place. *To be used as directed by your healthcare provider or physician. Disclaimer: If you are pregnant, nursing a baby, or have a chronic medical condition such as diabetes, hypertension or heart disease, be sure to consult your doctor or pharmacist before purchasing or taking any supplement.

Woohoo Natural Deodorant & Anti-Chafe Stick (Wild) 60g - Remove the lid and push up gently from the bottom of tube to expose 1-2mm of deodorant. Apply sparingly to your underarm & other sweaty or chafe-prone areas. Please remember that your Woohoo stick is perfectly imperfect - a small crack or hole is OK and won't affect performance. Store below 30 degrees C away from direct sunlight & please stop use if irritation occurs.

Triple Whitening Toothpaste Apple Mint - Brush for two minutes, making sure to get all the hard-to-reach places. Pep yourself up with a hit of Apple Mint Triple Whitening Toothpaste

Copper Tongue Scraper - Upon rising, and before drinking water, scrape your tongue 5-10 times with a soft, relaxed tongue. Reach to the back of the tongue and comfortably scrape the toxins off the tongue and rinse each time. Follow your ritual with brushing your teeth and flossing, before consuming your first conscious creation of the day.
Mighty Maca Plus (16 Servings - 57.6g) - Mighty Maca® Plus, in addition to organic Peruvian Maca powder, contains 30+ natural ingredients. It combines powerful phytonutrients, enzymes, and antioxidants, into a powerful, clinically tested formula that gives great results.

Phytonutrient Blend: Organic Maca Powder, Carrot, Organic Spinach, Broccoli, Acerola Fruit Extract, Parsley, Organic Kale Powder, Pomegranate Extract, Mangosteen Extract, Green Tea Aqueous Extract, Grape Seed Extract, Proprietary Blend, Apple Powder Complex, Stabilised Flaxseed Complex, Trans-Resveratrol, Cat's Claw Extract, Turmeric Extract, Quercetin, Ground Cinnamon, Milk Thistle Extract, Licorice Extract, Greens Blend, Organic Spirulina, Chlorella, Fibre Blend, Whole Oat Bran with Oat, Beta-Glucans, Citrus Fiber, Mighty Maca Enzyme Blend

Bromelain 0.56 GDU, Cellulase 35 CU, Fungal Amylase 700 SKB, Fungal Protease 79 HUT, Fungal Lactase 70 ALU, Fungal Lipase 105 FIP, Papain 238 TU
Other Ingredients, Natural resolver type (natural compound to offset bitter tastes), Citric acid, Natural Orange flavour, Stevia, Natural Peppermint flavour

Body Revitiliser Essentials 120g - Servings per package: 120g - 12 (12 days); 300g - 30 (30 days) Serving size: Mix 10g (3 scoops) with 350 - 450mls of water or your favourite beverage, stir well. Also perfect for adding to your smoothie. Consume one serve daily or as directed by a health care professional.

Ultimate Pain Balm - Organic MCT Oil, Beeswax, Menthol Crystals, White Camphor, Peppermint Oil, Spearmint Oil, Cinnamon Oil, Arnica Oil, Turmeric Oil, Calendula Oil, Vitamin E Oil, Blue Tansy Oil, Lavender Oil, Ginger Oil, Grape Seed Oil, Eucalyptus Oil, Meadowfoam Seed Oil, Argan Oil, Pineapple Enzymes, Malus Domestica Fruit Stem Cells, Argania Spinosa Sprout Stem Cells, Black Pepper Extract, Bearberry Oil, Ginger Root Extract, Calendula Oil, Prickly Pear Oil, Marula Oil

Woohoo Natural Deodorant & Anti-Chafe Stick (Wild) 60g - 100.0% natural, vegan and toxin free. Caprylic/Capric Triglyceride (fractionated Coconut Oil), Sodium Bicarbonate, Cetearyl Alcohol, Cocos Nucifera (Coconut) Oil*, Euphorbia Cerifera Cera (Candelilla) Wax, Tapioca Starch*, Butyrospermum Parkii (Shea) Butter*, Kaolin, Triethyl Citrate, Zinc Oxide, Tocopherol (Vitamin E), Eucalyptus Radiata (Eucalyptus) Leaf Oil, Cedrus Atlantica Wood (Cedarwood Atlas) Oil, Melaleuca Teretifolia (Honey Myrtle) Oil, Myroxylon Balsamum (Peru Balsam) Oil, Naturally occurring in essential oils Limonene, Geraniol, Benzyl Alcohol, Benzyl cinnamate, Benzyl Benzoate.
*Certified Organic Ingredient

Triple Whitening Toothpaste Apple Mint - Probiotic-rich, non-toxic, Australian-made and the first toothpaste in Australia to contain an oral probiotic (Lactobascillus Salivarus). Every ingredient was carefully selected and is underpinned by scientific research, like Hydroxyapatite a safe and proven remineralising agent. Gem also use a combination of the naturally powerful Sodium Bicarbonate and Silica to help clean and whiten tooth enamel.

Calcium Carbonate:
Mined from the earth, Gem uses this natural mineral as a mild abrasive to help prevent plaque build-up, remove surface stains and whiten and polish teeth. Unlike abrasives of the past, it offers a gentle clean, without scratching or damaging the tooth's enamel.

Cellulose Gum:
Derived from the cell walls of plants, Gem uses Cellulose Gum as a thickening agent to keep the paste creamy and stop ingredients from separating. This ingredient is regularly used as a food additive and is considered safe for consumption.

Glycerin:
Gem's food-grade Glycerin is derived from vegetable oils and is non-GMO. It works as a natural preservative to prevent the ingredients from separating, while also enhancing the natural mint oil flavour.

Hydrated Silica:
This natural material is used to remove surface stains and whiten and polish teeth. Gem uses only the highest quality silica with ultra-fine microscopic particles, designed to safely clean and polish the enamel on your teeth (some imported silica has large abrasive particles that can scratch or damage the enamel).

Hydroxyapatite (Omyadent):
Hydroxyapatite is the main mineral our teeth and bones are made of and is a proven, safe alternative to fluoride. It works by repairing and re-mineralising tooth enamel with calcium and phosphorus, which helps teeth to become harder and stronger, while also whitening and smoothening the tooth's surface.

Maltodextrin:
Naturally derived and made from corn, rice, potato starch or wheat, Maltodextrin is a commonly used, easily-digestible food additive. It can be used to improve the mouth feel of a product, but in this case, it's simply a minor by-product of the probiotic and only occurs in trace amounts.

Mint Oil & Menthol:
The powerful peppermint flavour comes from pure peppermint (mentha piperta oil) and mint (mentha arvensis leaf oil) essential oils (both derived from natural mint leaves) and a naturally sourced menthol. Combined, these ingredients provide a clean aftertaste and long-lasting fresh breath.

Oral Probiotic (Lactobacillus Salivarius):
This probiotic is an anti-bacterial and anti-inflammatory agent. When we nuke our mouths with chemicals, the balance of good and bad bacteria is thrown off. And bad bacteria is a problem; it can destroy the tooth's enamel, as well as the dentin layer underneath. The inclusion of Lactobacillus Salivarius prevents the build-up of bad bacteria, encourages the good bacteria and helps to establish a healthy oral microbiome.

Silica:
This stuff gives Gem's toothpaste its luxuriously thick consistency. The paste comes out of your mint-green tube with ease, making teeth-brushing effortless, mess-free, and all the more indulgent.

Sodium Menthyl Cocoyl Taurate:
This is a sulphate-free, naturally derived alternative to Sodium Lauryl Sulphate (SLS). Derived from coconut, this mild surfactant has very low irritation potential (unlike SLS) and has strong cleansing properties.

Sodium Monofluorophosphate:
A powerhouse at preventing tooth decay. Fluoride found in Sodium Monofluorophosphate (SM) helps reduce demineralisation of tooth enamel. This means your teeth stay stronger and for longer. SM also remineralises any weak spots, strengthening precious enamel for better pearly whites.

Sorbitol:
The sweetener Sorbitol is naturally derived from corn. Not only does it not cause cavities, it can help reduce dental plaque and acids, while also fighting harmful pathogens found in saliva. As a humectant, it also helps to moisten the mouth.

Stevia Rebaudiana Leaf/Stem Extract:
Gem uses this sugar substitute extracted from the leaves of the Stevia Rebaudiana plant, and native to Brazil and Paraguay. As stevia is sugar-free, it does not fuel the plaque bacteria that causes tooth decay. It also helps to remove the bitter notes.

Water:
Gem uses pure water to blend ingredients and gives Gem products the right consistency.

Xylitol:
This corn-derived sweetener has anti-bacterial properties, is non-cariogenic and doesn't ferment in your mouth to feed tooth decaying bacteria. Importantly, this has the effect of reducing plaque formation and inhibiting enamel demineralisation. By starving the cavity-causing bacteria, acidity inside your mouth is neutralised and saliva flow increases to healthy levels.

Copper Tongue Scraper - 99% copper
Australia
Free shipping within Australia on orders over $99
Standard Shipping: $10
Express shipping: $15
International Orders
We deliver to USA, Canada, New Zealand, Europe, UK and most countries throughout the world using carrier calculated rates at the checkout.
If you are unable to order in your location, please contact us for a quote.
For more details visit our shipping page.
This powerhouse pack supports a woman's nutrition and hormonal health.
- Lynsey
Why You Must Try It
See what others are saying