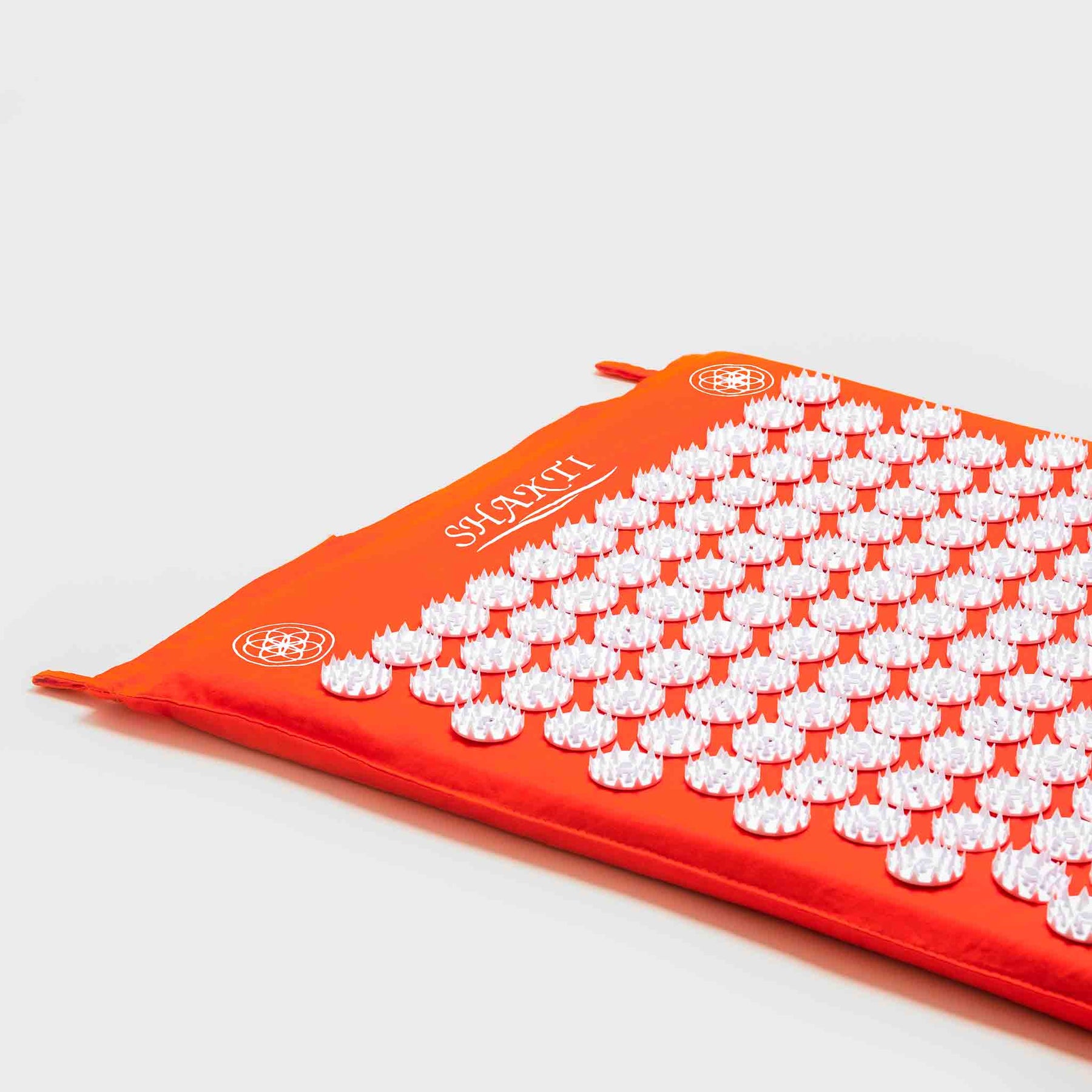 Shakti Acupressure Original Mat - Orange
Trust us, if you can push through the first couple of minutes on this spiky little mat, you're going to get the goooooooood stuff. Better sleep, relaxed muscles, and all-round rejuvenation.
Ongoing self-care without the ongoing price. The Shakti Mat is your one-purchase, wellness tool, ready any hour of the day. Endless massages packaged up in one Shakti Mat.

Curious about acupressure? This is a great place to start! The Shakti Originals are your ticket to a deep and restorative acupressure session.

Designed for massage therapy to effectively target deep tissue and melt away tension. After a few teething sessions you'll understand why it "hurts so good".

Unlock decompression and deep relaxation

Assist circulation to wash away tension

Reset a restless mind

Experience deeper sleep

An ongoing sense of wellbeing
74cm Length | 40cm Width | 2cm Height

The most common way to Shakti is in bed before sleep. It's easy to add to your bedtime ritual, whether that's with a book or your favourite show. Just 20 minutes, lying down, under your blankets is all it takes to get started!

First, you will experience a prickly discomfort that is tempting to resist. Once you push through, the sensations melt into a tingly warmth, known as the addictive "Shakti burn". After 20 minutes it's time for the real reward—the full-body sensation kicks in, tension washes away and you're ready for deep sleep.

Choosing a Shakti comes down to more than just colour. There are 3 levels that will help you unlock all of the benefits of acupressure:

If you're curious about acupressure and happy to grit your teeth for a reward then the Originals are our most popular place to start. Effectively target deep tissue and restore the body in the same way deep tissue massage would. A perfect balance of challenge and reward.

If you're intimidated by the spikes and not quite ready to take the full Shakti leap of faith, then start with the Light. This has all the spikes but without the 'bite' resulting in a more gentle Shakti experience.

On the other hand, if you're wanting to join the Shakti masters, then the Advanced is for you. Imagine a hot sauna, cold plunge combo… Not for the faint-hearted, but well worth the reward if you're ready for the upgrade!
Crafted in India - the birthplace of acupressure. Organic cotton & dyes - planet and skin-friendly
Australia
Free shipping within Australia on orders over $99
Standard Shipping: $10
Express shipping: $15
International Orders
We deliver to USA, Canada, New Zealand, Europe, UK and most countries throughout the world using carrier calculated rates at the checkout.
If you are unable to order in your location, please contact us for a quote.
For more details visit our shipping page.
Acupressure is a great way to shift the body into a parasympathetic state, creating space for more health and healing.
- Lynsey
Why You Must Try It
See what others are saying
Total 5 star reviews: 1
Total 4 star reviews: 0
Total 3 star reviews: 0
Total 2 star reviews: 0
Total 1 star reviews: 0
100%
would recommend this product
Shakti Mat

After about 1 minute of discomfort one starts to relax and unwind. I often fall asleep on my mat . I am getting a better nights sleep too. Love my Shakti mat.

YM

You Must Try It

4 weeks ago

Amazing! Enjoy, thank you.
YMTI Team x
Reviews Loaded
Reviews Added