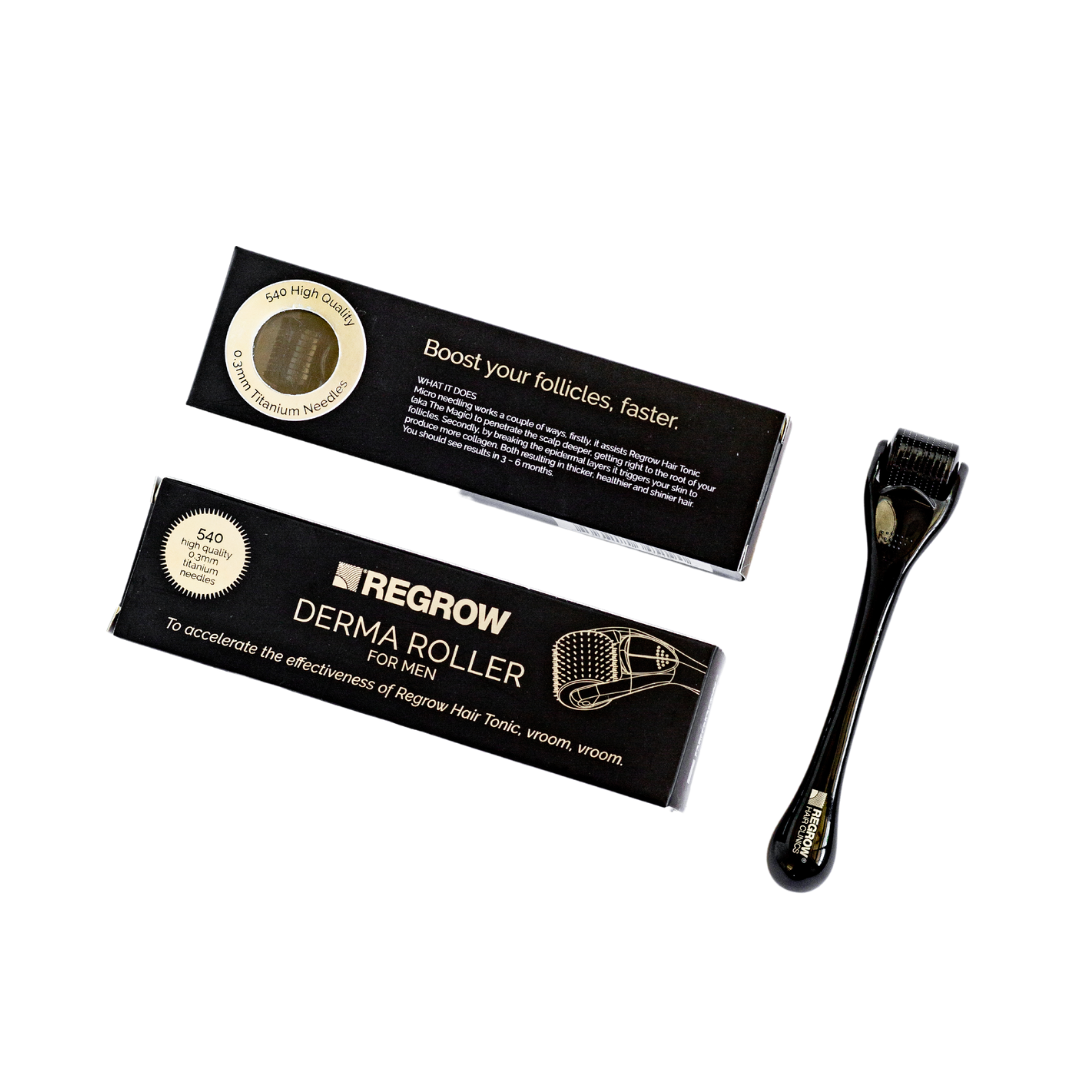 Derma Roller - Men
This is for men who don't like to mess around. They want their hair looking its best, and they want it now!
Derma Rolling (also known as micro needling) works a couple of ways. Firstly, it assists Regrow Hair Tonic (aka The Magic) to penetrate the scalp deeper, getting right to the root of your follicles.

Secondly, by breaking the epidermal layers it triggers your skin to produce more collagen and blood flow. Both result in thicker, healthier and shinier hair.

You should start to see results in 3 – 6 months.
Firstly, wash and condition your hair with Regrow Men's Shampoo and Conditioner. Use medical alcohol to disinfect the roller before and after use (no, beer won't work). Spray Regrow Hair Tonic as per instructions to a clean scalp (wet or dry).

Roll the derma roller back and forth 4-5 times in a horizontal, vertical and diagonal direction (you may sing your favourite song while doing this… or not). Maintain a pressure that feels comfortable (too soft it won't work, too hard and you might spring a leak).

For best results, use 2-3 times per week.

Important Stuff - Do not use is your skin is infected, irritated, has dermatitis or if the skin is broken. Do not share your roller, this is an exclusive relationship. If your skin becomes inflamed, discontinue using.
This high-quality, sleek Black Derma Roller has 540 x 0.3mm Titanium Needles.
Australia
Free shipping within Australia on orders over $99
Standard Shipping: $10
Express shipping: $15
International Orders
We deliver to USA, Canada, New Zealand, Europe, UK and most countries throughout the world using carrier calculated rates at the checkout.
If you are unable to order in your location, please contact us for a quote.
For more details visit our shipping page.
A derma roller is a great way to enhance absorption of hair growth serums as well as create a controlled trauma that encourages more circulation and growth to a hair follicle.

I like to use it by a gentle roll over the lighter patches before using a hair product or my red light therapy helmet
- Lynsey
Why You Must Try It
See what others are saying