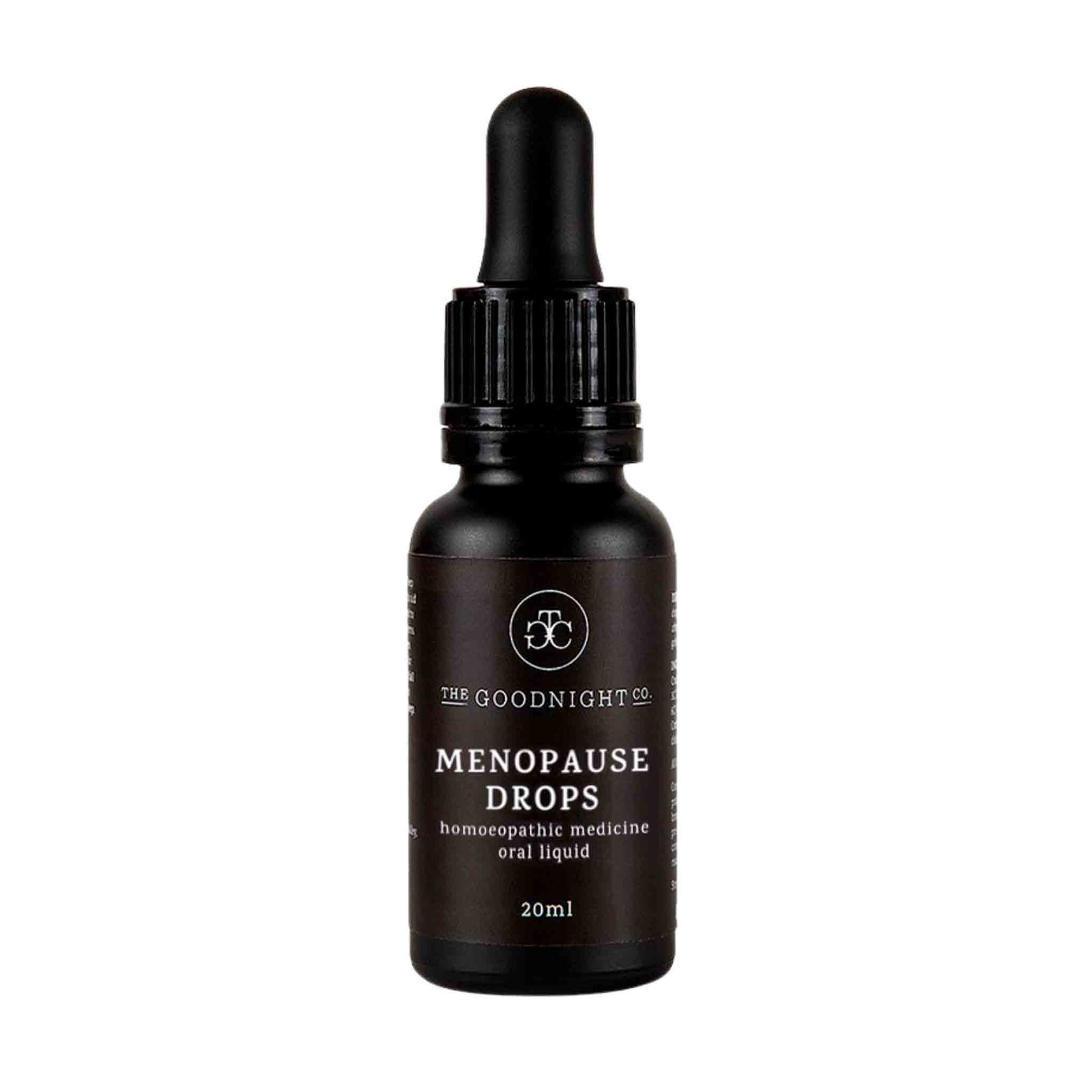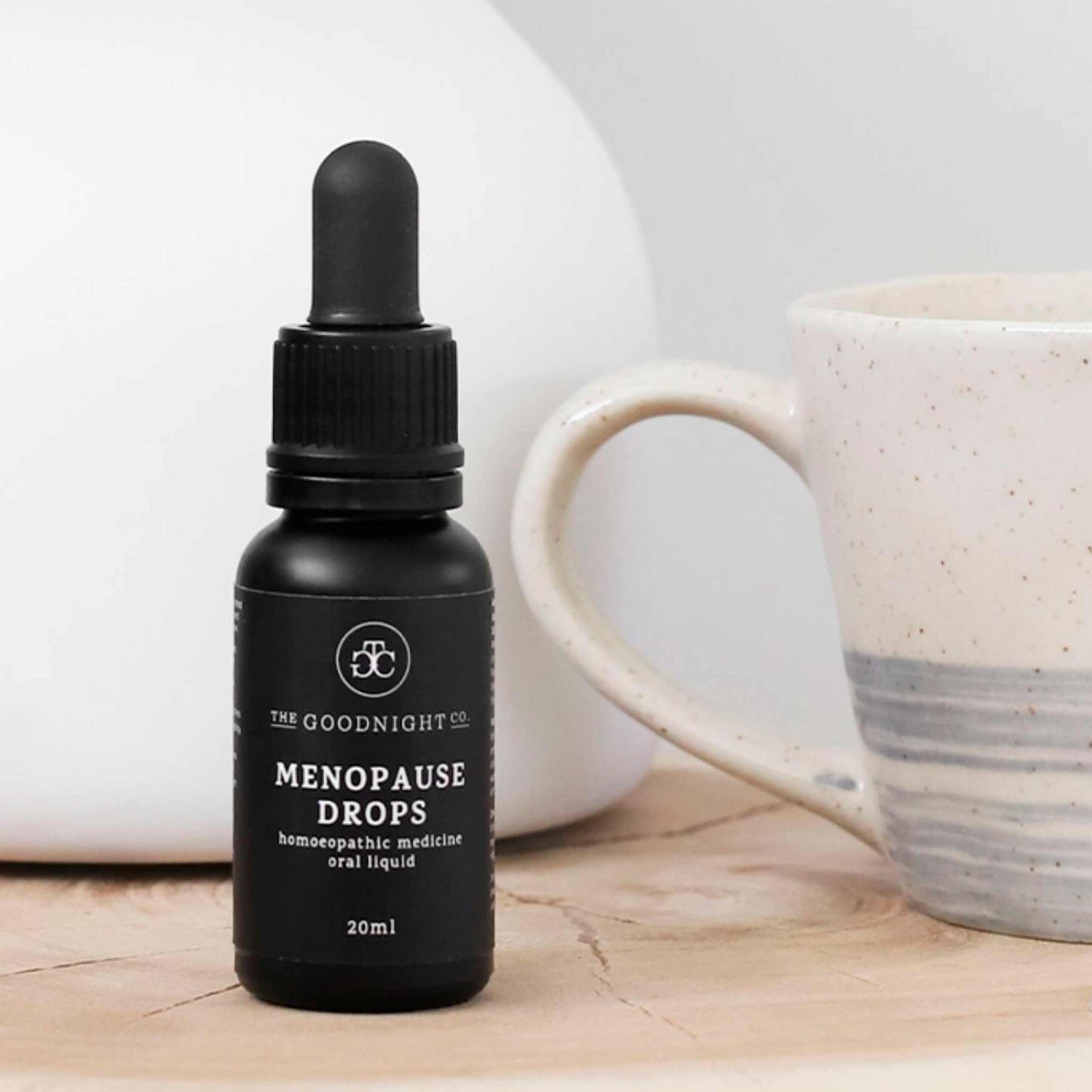 Menopause Drops 20ml
Hot flushes and night sweats really mess with your sleep – not to mention your sheets (let's be real). Fans swear by these all-natural drops for some sweet relief from the sweaties!
Don't Sweat It!

If you're a woman, menopause will happen. Period. #NoPeriod. That somewhat oddly-named mid-life change when your monthly menstrual cycle stops. Forever.

Typically occurring around the half-Century mark of life, and arguably better renamed women-Oh!-pause. It's a maturity milestone that brings a range of unique and unwelcome sleep challenges. Let's face it, between hot flushes, irritability and night sweats, the transition to menopause – which generally lasts three to five years – can feel like one long, hot and frustrating heat spell.

The Goodnight Co spend their waking hours curating innovative and evidence-based menopause sleep aid products and programs to help you create better days, through better sleep, at every life stage. We try to combat menopause sleep problems with natural remedies.

Importantly, if, like most women, you experience hot flushes and night sweats on the transition to menopause, it doesn't mean you have to take it lying down (at least not tossing and turning, trying to get back to sleep)! It's why we're excited to have these menopause sleep drops.

Did you know? Hot flushes affect 75 to 85% of women during the transition to menopause. One hot flush lasts about three minutes and can happen multiple times, day and night. At night, hot flushes are often more severe and called night sweats. While short-lived, they can drench sheets and sleepwear, resulting in frequent awakenings and next-day fatigue.

For a small percentage of women, menopause can happen before the age of 40 (premature menopause) or 45 (early menopause).
Place 6-8 drops under your tongue as needed to help ease menopausal symptoms. Hold the liquid under your tongue for 10 to 15 seconds before swallowing – this helps the sublingual glands absorb the remedy.

For best results, try not to eat, drink or brush your teeth 30 minutes before or after taking the drops. Store in a cool, dark place, as far away from EMF (electromagnetic fields, like phones, TV, alarm clocks) as possible.

Note: Menopause Drops are suitable to be combined, or used at the same time as other Drops in our range.

The information provided is not intended to be medical advice, nor does it replace professional media advice, diagnosis or treatment. Individual results may vary.
Atropa belladonna, 6C; Amyl nitrosum, 6C; Pulsatilla pratensis, 4C; Sanguinaria canadensis, 4C; Sepia officinalis, 5C. The tincture also contains 12% ethanol in distilled water.
Australia
Free shipping within Australia on orders over $99
Standard Shipping: $10
Express shipping: $15
International Orders
We deliver to USA, Canada, New Zealand, Europe, UK and most countries throughout the world using carrier calculated rates at the checkout.
If you are unable to order in your location, please contact us for a quote.
For more details visit our shipping page.
To ease the transition to a new type of hormonal health, this homeopathic formula can gently reduce symptoms such as hot flushes, irritability and mood swings.

Place drops under the tongue as needed.
- Lynsey
Why You Must Try It
See what others are saying