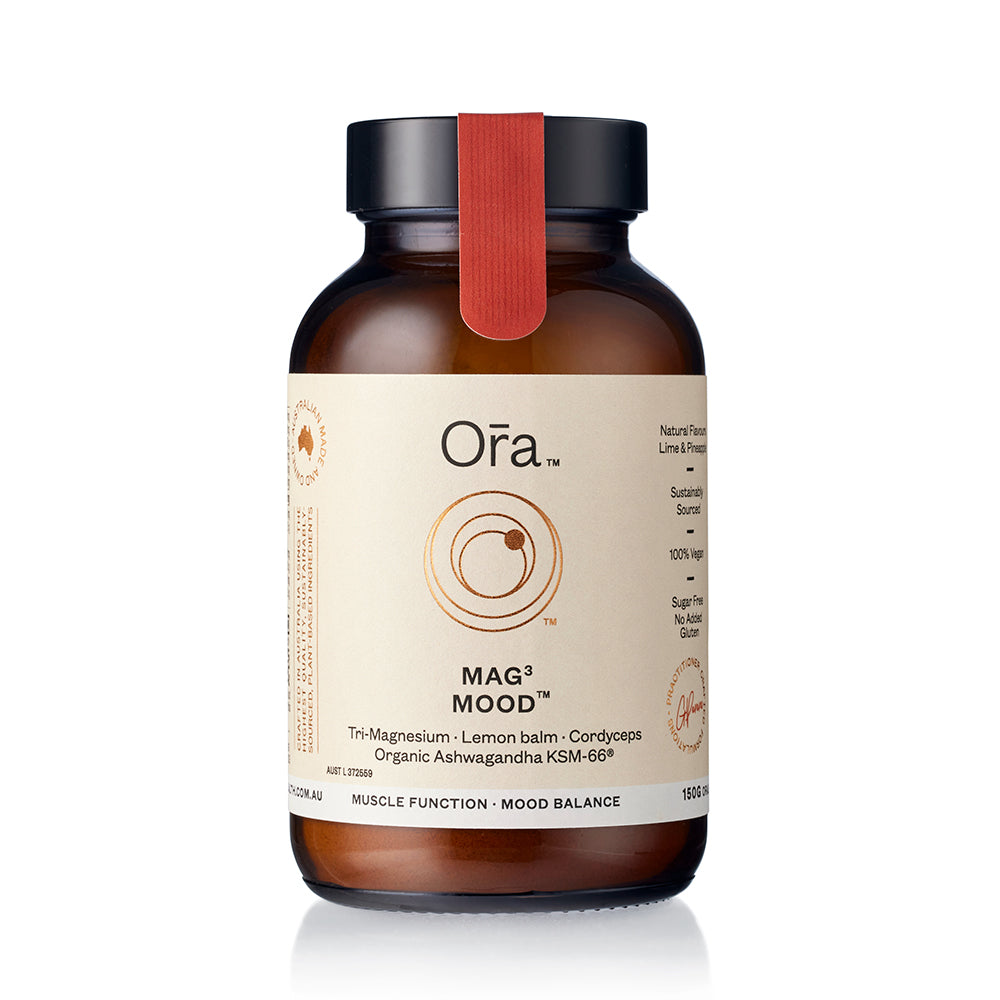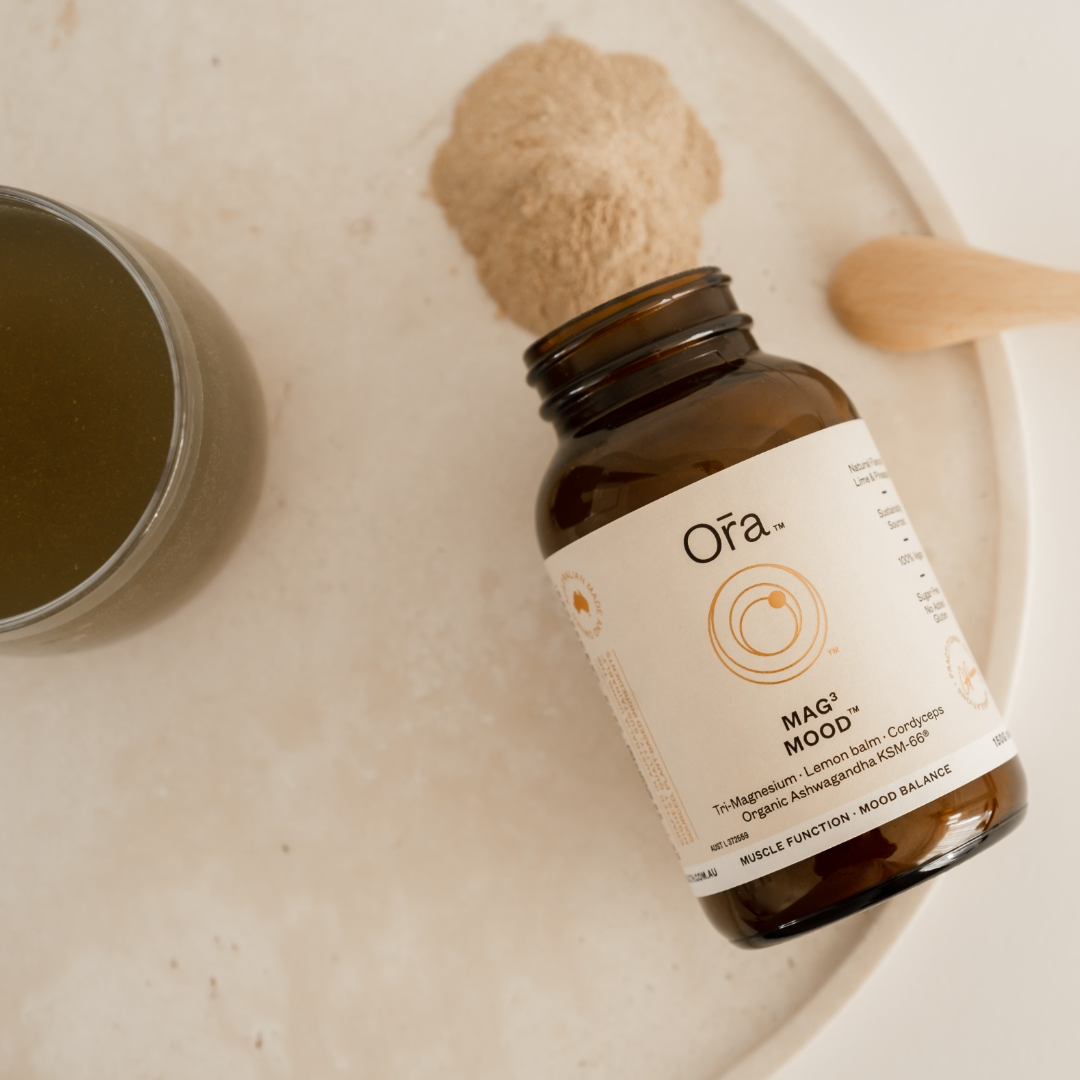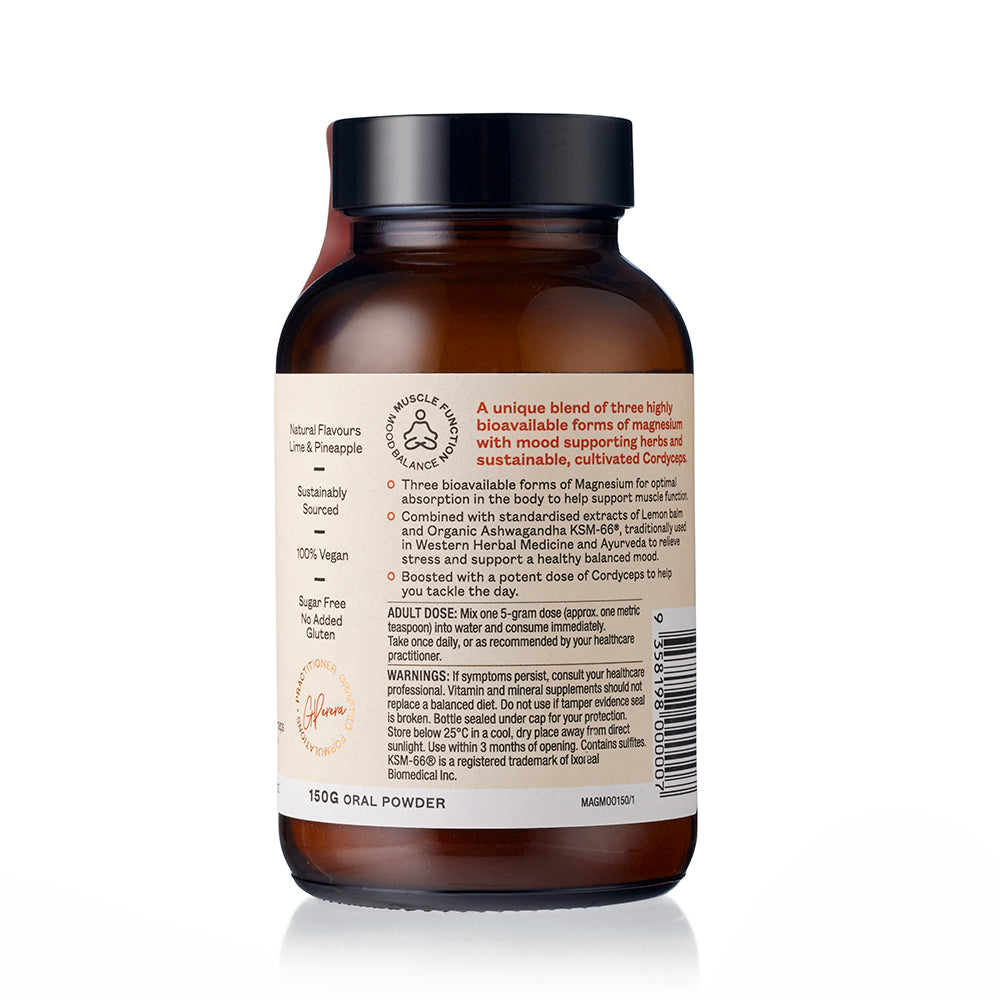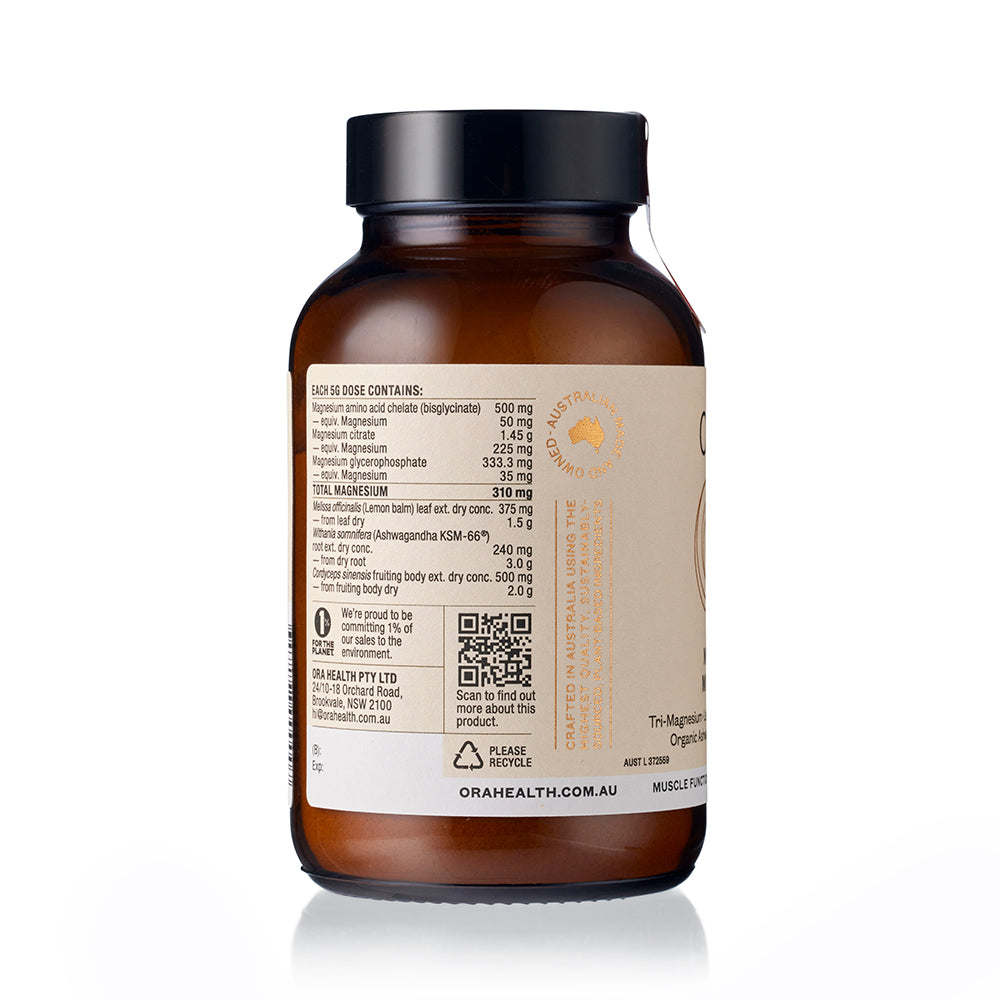 Mag3 Mood 150g Powder
Your everyday, triple-magnesium powder for muscular relaxation and function, with mood- and stress-supporting herbs and a vegan Cordyceps to support your nervous system.
Created to support healthy neuromuscular function, Mag³ Mood is formulated with a unique blend of three highly bioavailable forms of magnesium, complete with a sustainably-sourced vegan Cordyceps and herbs traditionally used to support emotional wellbeing and help the body adapt to stress.

Benefits

Support muscle function and relaxation

Support mood balance and mental wellbeing

Relieve symptoms of stress

Help the body adapt to stress

Relax the nervous system

Ora Health have formulated Mag3 Mood™ to be as tasty as possible, so just mix it in water and enjoy the zesty kick! What does Mag3 Mood™ taste like? Lime and pineapple.

FAQs

What are the three types of magnesium in Mag3 Mood™?

Ora Health have used three forms of magnesium (Magnesium bisglycinate, Magnesium citrate and Magnesium glycerophosphate), all of which are highly bioavailable for optimal absorption in the body.

Is the cordyceps in Mag3 Mood™ vegan?

Ora Health have selected a high quality Cordyceps extract which is cultivated on a barley substrate, thereby ensuring quality is consistently controlled and that the ingredient does not contain any animal or insect by-products. It is therefore suitable for vegans.

Is Mag3 Mood™ safe to use during pregnancy and breastfeeding?

Ora Health recommend avoiding Mag3 Mood™ during pregnancy and breastfeeding due to the lack of research around the use of Lemon balm during pregnancy and breastfeeding."
Mix one 5-gram dose (approx. one heaped metric teaspoon) into water and consume immediately. Take once daily, or as recommended by your healthcare professional.

Always read the label. Follow the directions for use. If symptoms persist, worsen, or change unexpectedly, talk to your healthcare professional.
Mag3 Mood

A daily dose (5g) contains:

Magnesium amino acid chelate (bisglycinate) 500 mg
equivalent Magnesium 50mg

Magnesium citrate 1.45g
equivalent Magnesium 225mg

Magnesium glycerophosphate 333.33mg
equivalent Magnesium 35mg
equivalent Phosphorous 42.67mg

Melissa officinalis (Lemon balm) leaf ext. dry conc. 375mg
From dry leaf 1.5g

Withania somnifera (KSM-66® Organic Ashwagandha) root ext. dry conc. 240mg
From dry root 3g

Cordyceps sinensis (Cordyceps mushroom) fruiting body ext. dry conc 500mg
From dry fruiting body 2g

No added yeast, soy, sugars, lactose, gluten, artificial colourings, dairy, or animal products.
Australia
Free shipping within Australia on orders over $99
Standard Shipping: $10
Express shipping: $15
International Orders
We deliver to USA, Canada, New Zealand, Europe, UK and most countries throughout the world using carrier calculated rates at the checkout.
If you are unable to order in your location, please contact us for a quote.
For more details visit our shipping page.
Magnesium is one of my all-time favourite nutrients for myself to support my nervous system, mood and cellular health.
- Lynsey
Why You Must Try It
See what others are saying