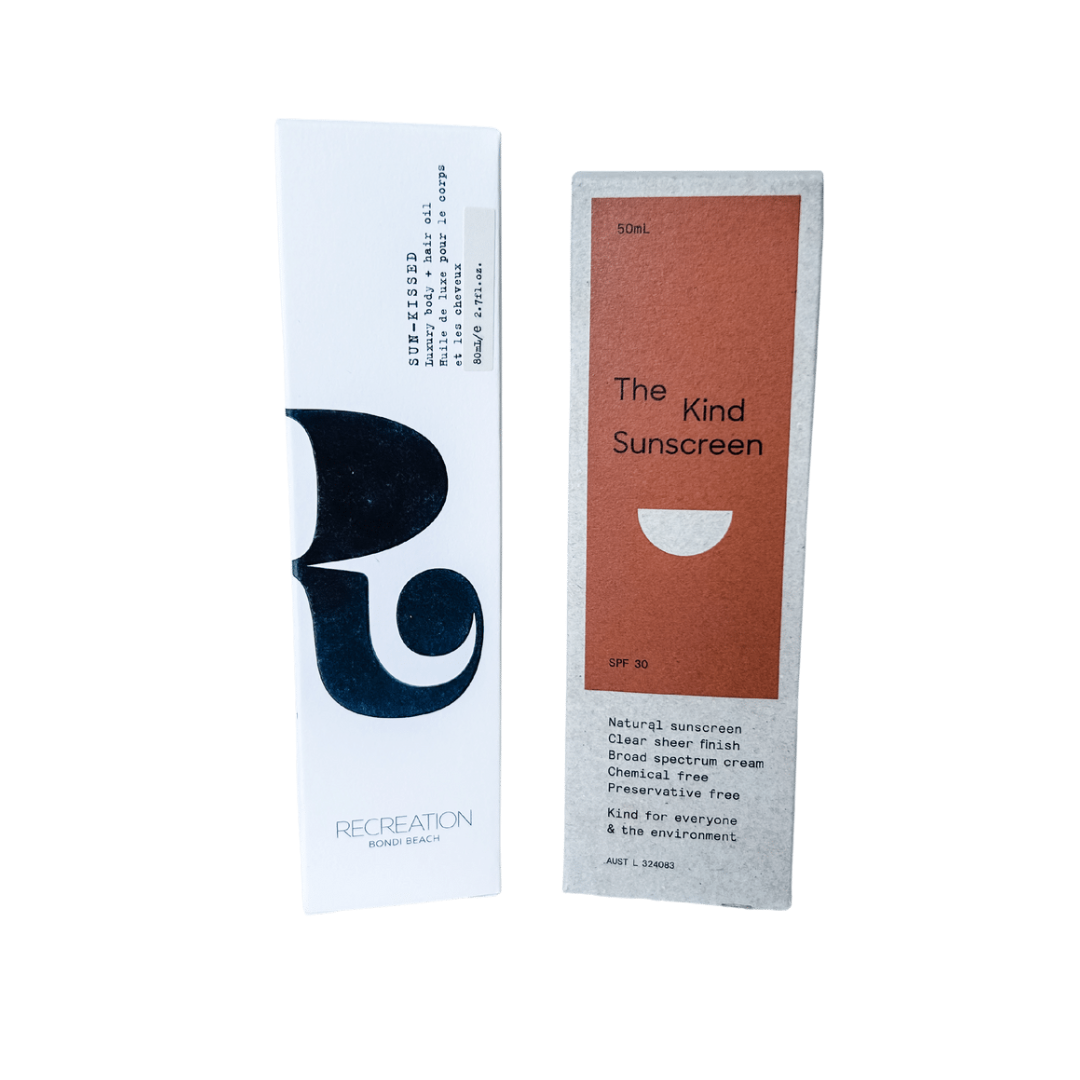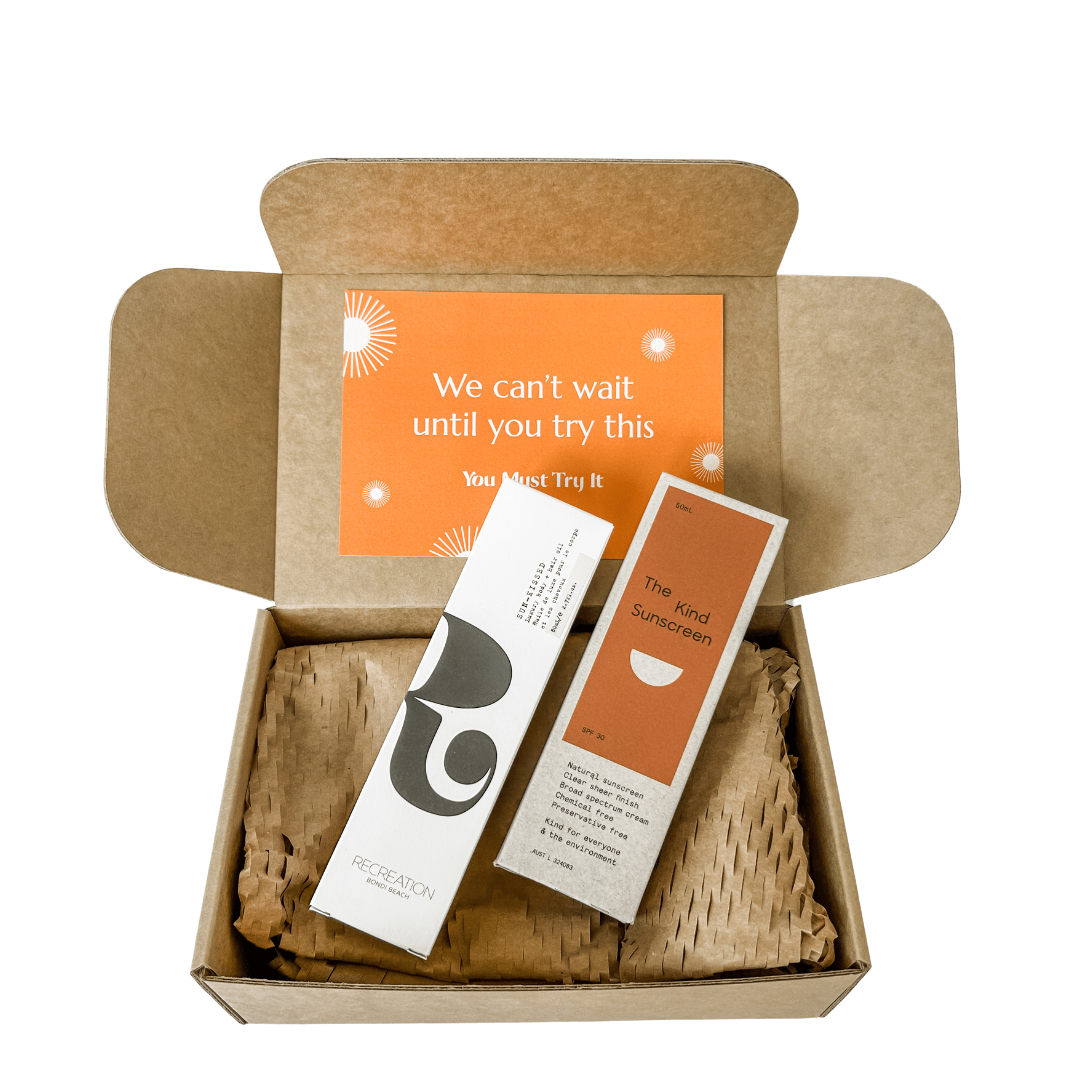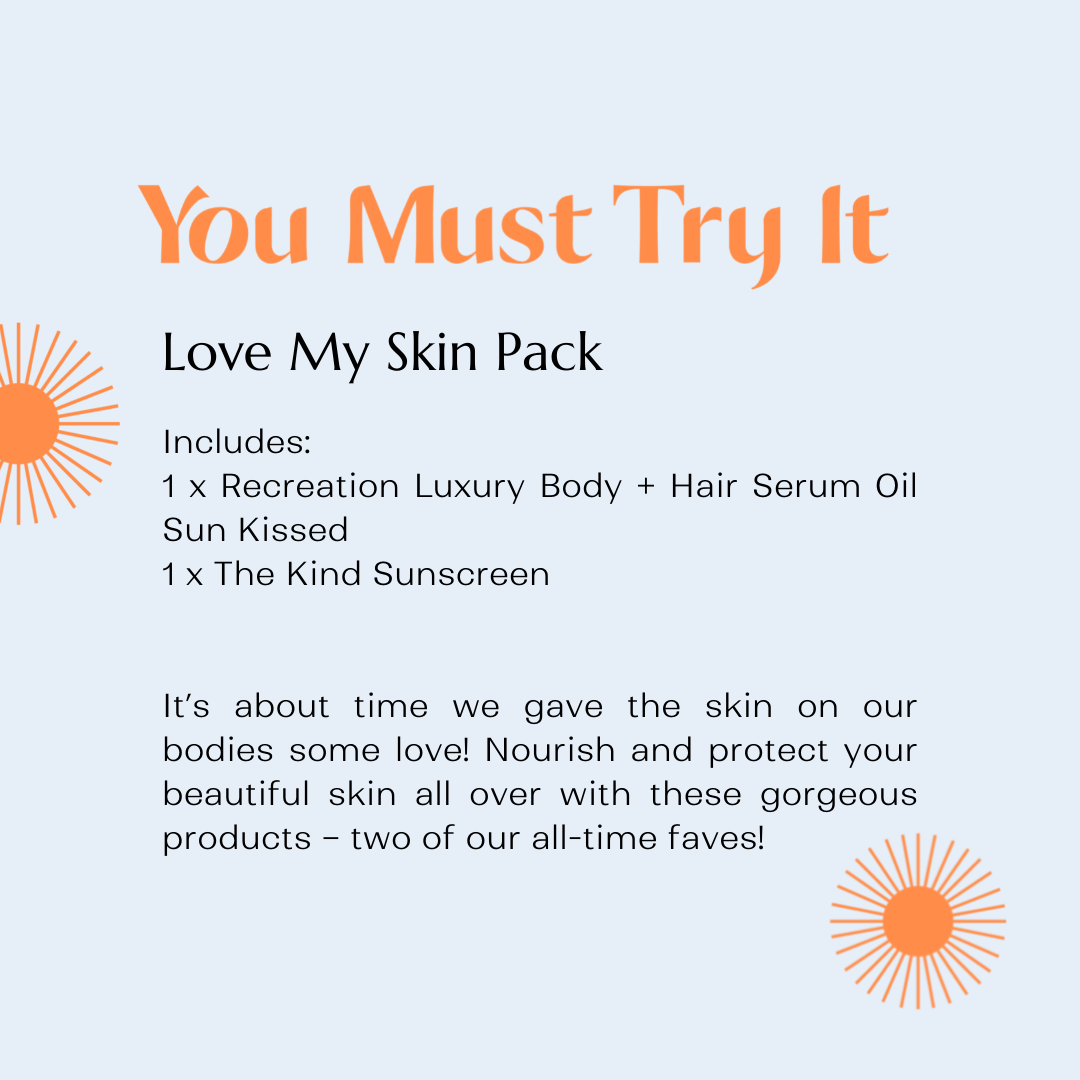 Love My Skin Pack
It's about time we gave the skin on our bodies some love! Nourish and protect your beautiful skin all over with these gorgeous products – two of our all-time faves!


Pack includes:
1 x Recreation Luxury Body + Hair Serum Oil Sun Kissed
Rich in rosehip oil, jojoba oil, and seaweed extracts, this luxury serum oil can help to rebuild elasticity and renew skin cells, leaving you with a smooth, soft, and glowing complexion all over.
It's 100% natural, vegan and cruelty-free, and made with 75% organic ingredients.

1 x The Kind Sunscreen
Made from just nine hard-working, skin-loving ingredients, this fabulous physical sunscreen has been formulated without water and synthetic compounds to be kind to skin and the environment. A beautiful addition to your skincare routine, this very special sunscreen is a must-try for nourished, hydrated, and protected skin.
The Kind Sunscreen 50 ml - Apply generously and evenly at least 20 minutes before sun exposure every day. Be sure to reapply at least every two hours, more often if you are swimming, sweating or being active.

Avoid prolonged sun exposure. Always wear protective clothing, hat and eye-wear in addition to sunscreen. Try to stay out of the sun between the hours of 10am to 2pm when UV damage and sunburn are most likely.

Luxury Body + Hair Serum Oil Sun-Kissed -
1. Hydrating body serum: Smooth all over body for instant moisture and glow that is not oily. .

2. Daily facial moisturiser: apply a small amount to the face and massage into skin: say hello to glowing skin!

3. Hair gloss: Use a drop on the ends of hair for weightless shine.

4. Nourishing hand serum: massage into hands throughout the day. Keeps hands hydrated and nourished without oiliness!

5. Dry scalp treatment: Massage into scalp for three minutes before washing out.

6. Deep conditioning hair treatment: massage a handful through hair, leave 20 mins then wash out for super smooth hair.
The Kind Sunscreen - Made with just 9 ingredients, The Kind Sunscreen is a clean, hard-working addition to any skincare routine. We believe in less is more.

Zinc Oxide - Zinc provides natural protection from UV rays- preventing cell damage and reducing the signs of premature skin ageing. The zinc in our sunscreen is 'Non-Nano', meaning that the minimum particle size is above 0.1um. It makes up 19.5% of our sunscreen.

Candelilla Wax - A protective agent that works as a barrier to keep skin moist. It also binds our 9 clean ingredients together to create The Kind Sunscreen. A vegan alternative to beeswax. Certified Organic

Castor Oil - Penetrates the skin, helping to stimulate production of collagen and elastin for soft, hydrated skin. Especially rich in ricinoleic acid – a natural antibacterial and anti-inflammatory – to help end the cycle of inflammation and irritation. Certified Organic

Coconut Oil - The saturated fats in coconut oil help to repair & restore your skins natural barrier function, locking moisture in. Hydrated skin is happy skin. Certified Organic & Sustainably Sourced

Vitamin E - An antioxidant which combats free radicals and is easily absorbed into the skin. Free radicals are what damage our cells and cause wrinkles, loss of elasticity and reduced firmness. Protect your skin with daily application of TKS. Certified Organic & Sustainably Sourced

MCT Oil - Fatty acids that occur naturally – ours comes from coconut oil and glycerin. Its resistance to oxidation helps to stabilise our sunscreen so our UV filters remain effective when exposed to sunlight. Certified Organic

Coco Caprylate - A natural moisturiser, Coco-Caprylate is a mixture of naturally derived ingredients; coconut alcohol, caprylic acid and capric acid. Derived from Coconut Oil

Isostearic Acid - Created from oleic acid, this fatty acid helps to ensure even coverage. Ours is vegetable based because we're vegan friendly. Derived from Vegetable Oil

Polyglyceryl-3 Polyricinoleate - Allows our water soluble and oil soluble ingredients to work together, so our sunscreen spreads and absorbs easily. No thick white consistency! Skin-friendly and has virtually no potential for irritation- produced from ricinoleic acid and glycerol (from castor oil). Derived from Caster Oil

Luxury Body + Hair Serum Oil Sun-Kissed - Caprylic/Capric Triglyceride, Cocos nucifera (Coconut) Oil*, Macadamia Ternifolia (Macadamia) Seed Oil*, Prunus Armeniaca (Apricot) Kernel Oil*, Butyrospermum Parkii (Shea Butter) Extract Oil, Simmondsia Chinensis (Jojoba) Seed Oil, Rosa canina Fruit (Rosehip) Oil*, Isononyl Isononanoate, Dicaprylyl Carbonate, Ficus carica (fig extract), pyrus (pear essential oil), Backhousia citriodora (lemon myrtle essential oil), Jasminum officinale (jasmine essential oil), Viola odorata (violet extract), Cedrus atlantica (Cedarwood essential oil), Santalum spicatum (sandalwood essential oil), Crambe Maritima Leaf Extract (blue Sea Kale), Laminaria Ochroleuca Extract (Antileukine), Tocopherol (Vitamin E) *Denotes Certified Organic
Australia
Free shipping within Australia on orders over $99
Standard Shipping: $10
Express shipping: $15
International Orders
We deliver to USA, Canada, New Zealand, Europe, UK and most countries throughout the world using carrier calculated rates at the checkout.
If you are unable to order in your location, please contact us for a quote.
For more details visit our shipping page.
A beautiful addition to any skincare routine. Will leave you with a glowy lustre fit for a queen (that would be you)!
- Lynsey
Why You Must Try It
See what others are saying