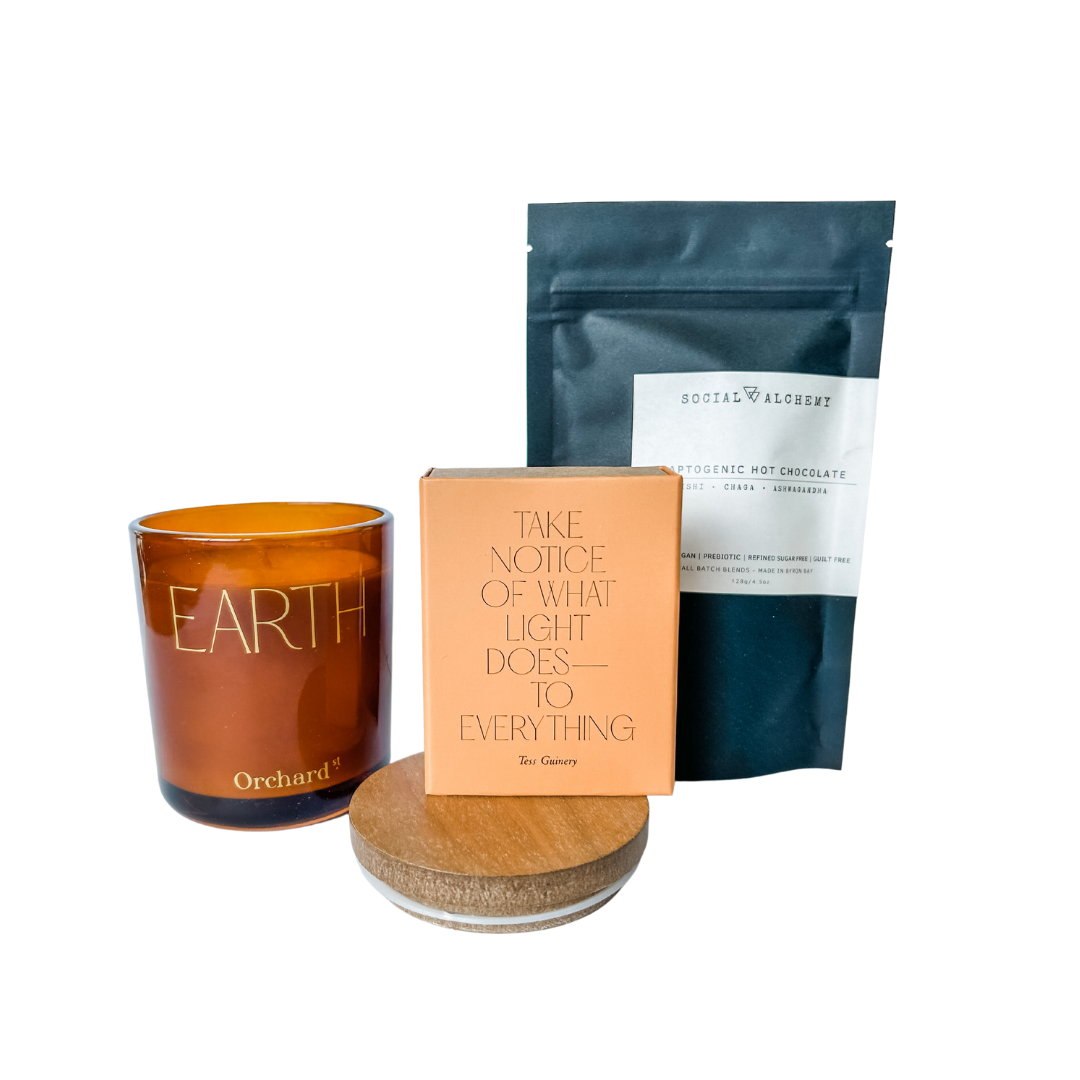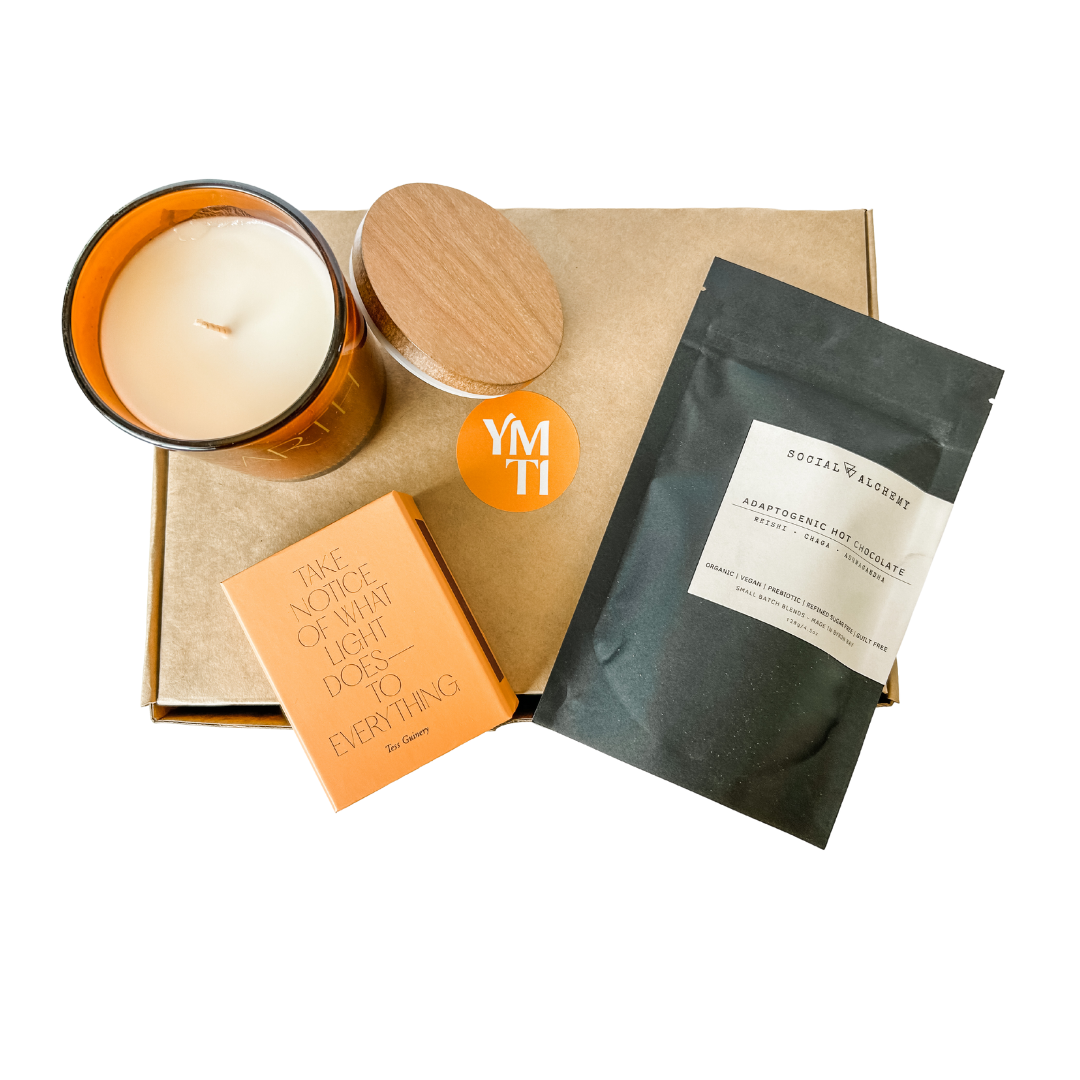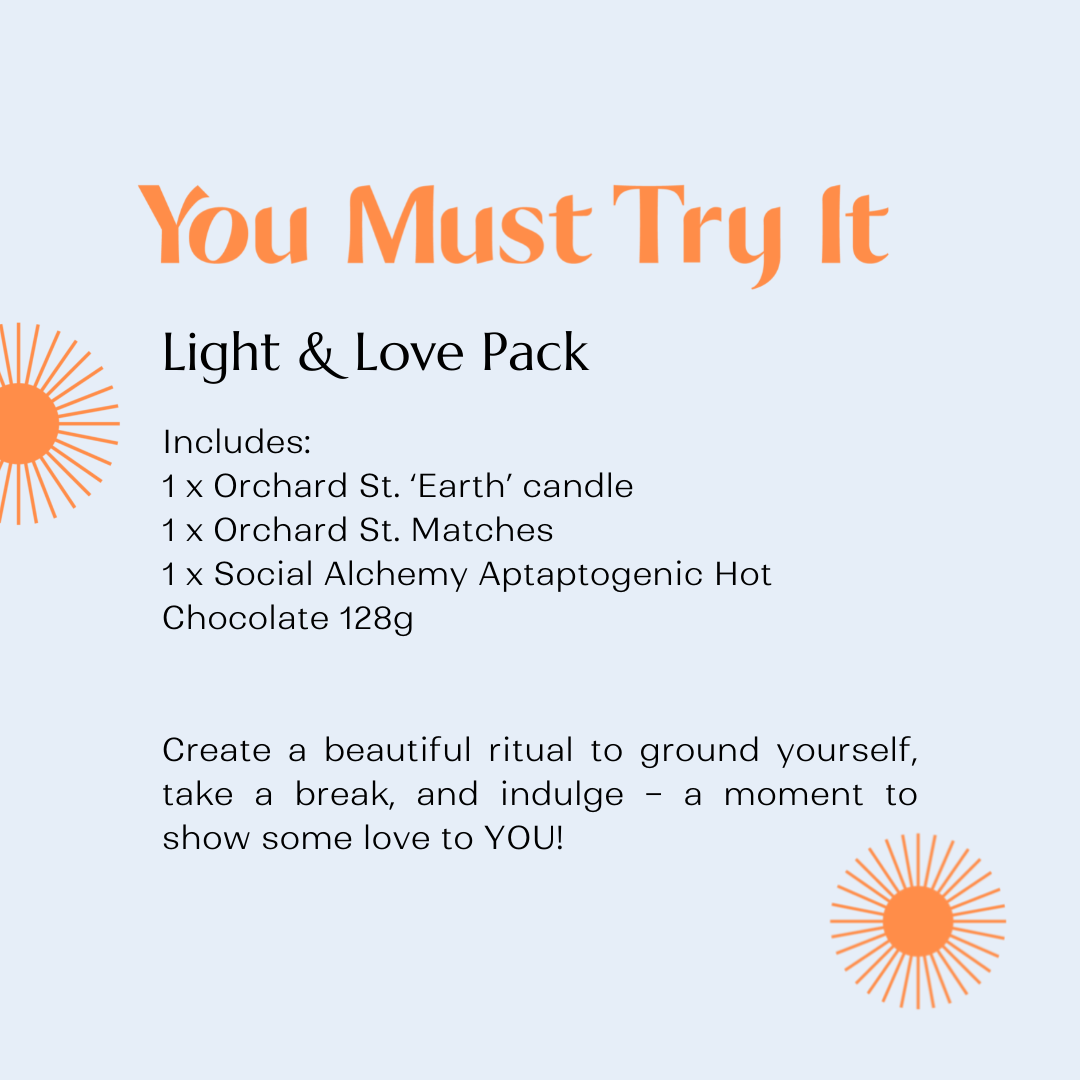 Light & Love Pack
Create a beautiful ritual to ground yourself, take a break, and indulge – a moment to show some love to YOU!
Pack includes:
1 x Orchard St. 'Earth' candle
Create a sacred space with the Orchard St. Earth candle. Its calming, grounding scent comes from a stunning blend of cedarwood, orange, vetiver, patchouli, Peru balsam, and rosemary essential oils.

1 x Orchard St. Matches
A divine matchbox designed in union with artist Tess Guinery that makes a great conversation piece and looks gorgeous on display next to your Earth candle. The beautiful rigid gold foiled box contains 50 extra-long matches.

1 x Social Alchemy Aptaptogenic Hot Chocolate 128g
Social Alchemy Adaptogenic Hot Chocolate helps to soothe the nervous system, boost immunity, sharpen the mind & elevate your mood - and is perfect to enjoy as you take a moment for YOU as you bask in the glow and calming scent of your Earth candle.
Earth Candle 300g - To ensure an even and smoke-free burn, the wick should be trimmed to a length of 5mm each time before lighting.

Candles should never be left burning unattended and discontinue when 10mm of wax remains.

Wax has 'memory' so it will follow the first burn so make sure not to extinguish the candle until the whole surface has melted.

Earth candle provides approximately 50 hour burn time. Wicks are 100% cotton.

Matches - To light: press the head of the match against the striker on the matchbox and quickly drag it across. Hold the match at a downward angle of ~ 45 degrees for optimal burn.

Adaptogenic Hot Chocolate 128g - Place 4 teaspoons of Adaptogenic Hot Chocolate into your vessel of choice. Heat milk/mylk, stir well. Drink and recharge.
Earth Candle 300g - Made with pure essential oils of cedarwood, orange, vetiver, patchouli, peru balsam and rosemary.

Matches - These matchsticks are made from cardboard and small wooden sticks.

Adaptogenic Hot Chocolate 128g - All ingredients are 100% certified organic: cacao, panela, maca, ginger, carob, lucuma, reishi mushroom (10:1 extract), chaga mushroom (10:1 extract), ashwagandha, cinnamon, peruvian mountain salt
Australia
Free shipping within Australia on orders over $99
Standard Shipping: $10
Express shipping: $15
International Orders
We deliver to USA, Canada, New Zealand, Europe, UK and most countries throughout the world using carrier calculated rates at the checkout.
If you are unable to order in your location, please contact us for a quote.
For more details visit our shipping page.
Surround yourself with beautiful things and you can turn anything into a ritual.
- Lynsey
Why You Must Try It
See what others are saying