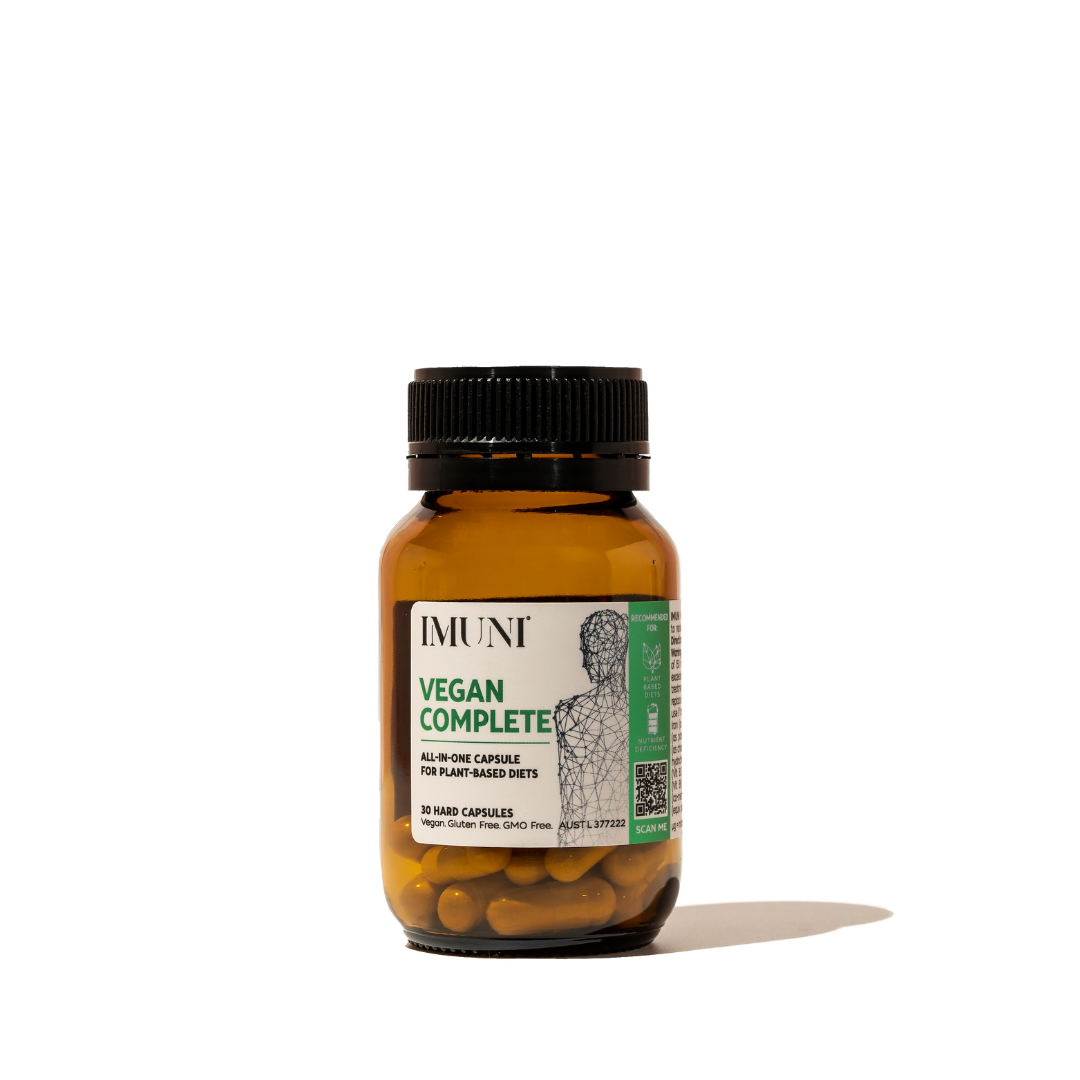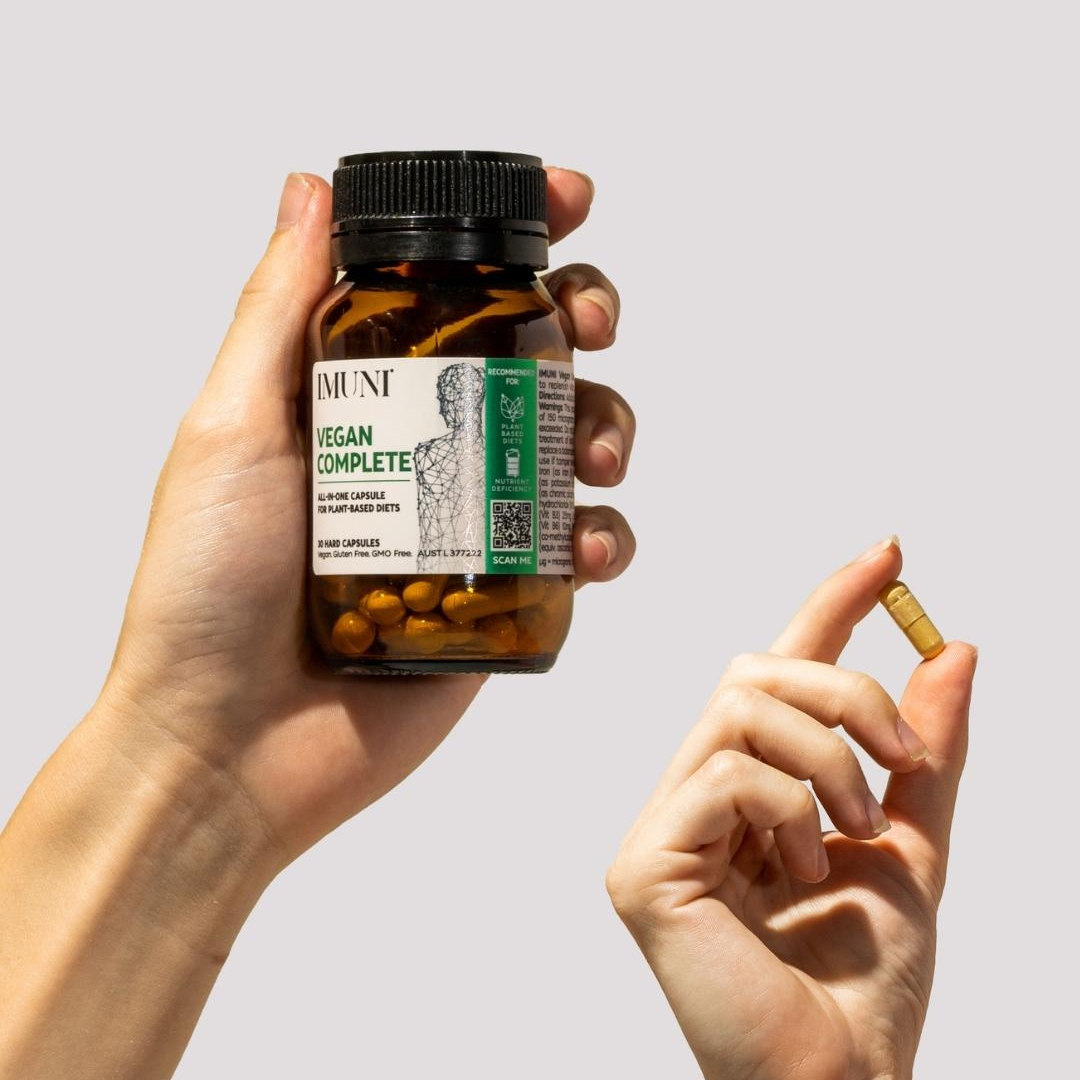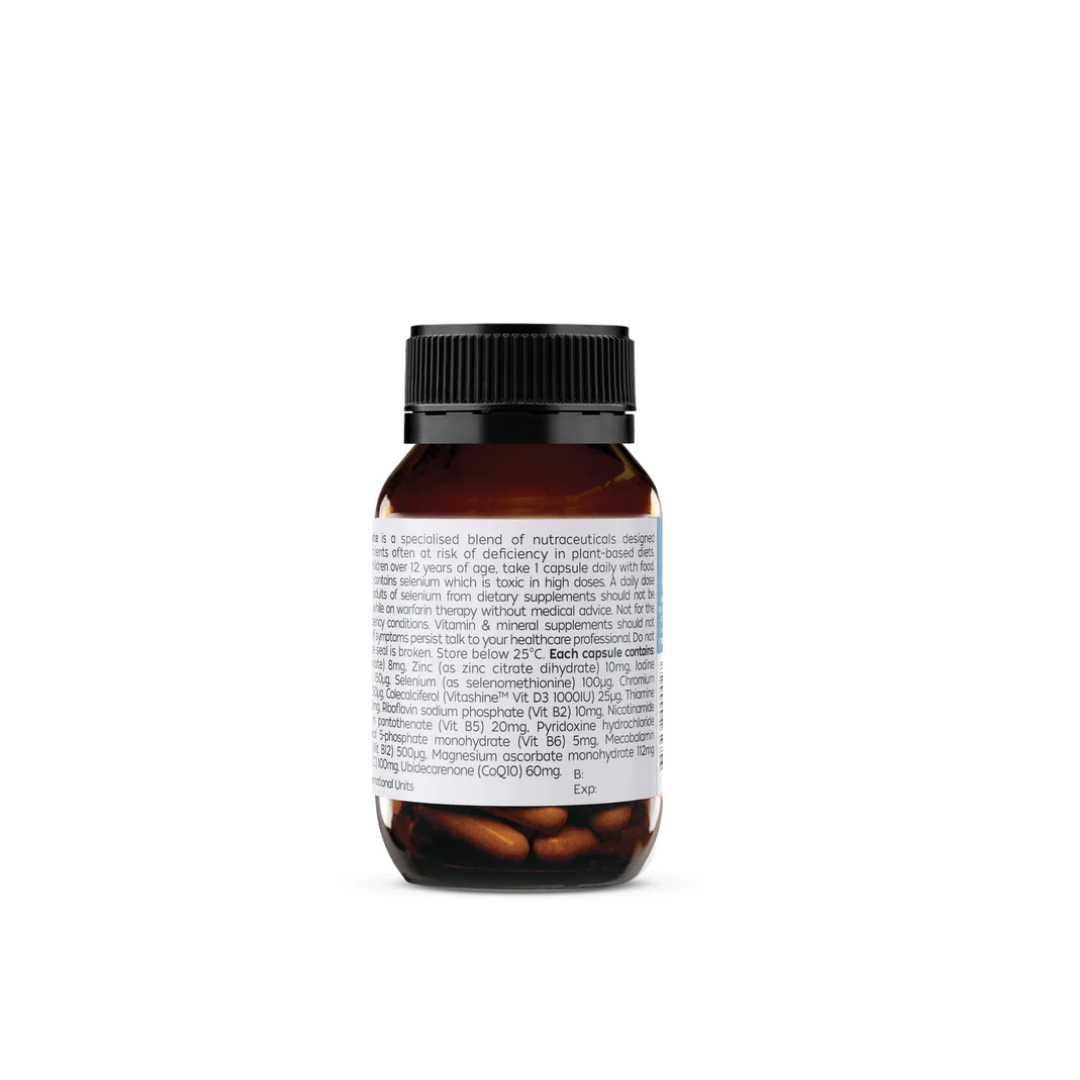 IMUNI Vegan Complete - 30 Capsules
Maximise the health benefits of your plant-based diet with IMUNI's specialised blend of nutraceuticals designed to replenish vital nutrients often at risk of deficiency in plant-based diets.
Containing 14 key nutrients at therapeutic doses, this comprehensive formula will help cover your needs with one convenient daily capsule.

Simply empty the contents of each capsule in your favourite smoothie and consume immediately, or take one capsule a day with your favourite drink to help fill the gaps in your plant-based diet.

Each dose has been optimally formulated with Vitamin B12, B1, B2, B3, B5, B6, C, D, Iodine, Chromium, Selenium, Iron and Zinc to support the following aspects of health and wellbeing: Support energy levels, healthy hair, nails, skin, teeth and bones.

Vitamin B12, B5, B6, B1, C, D, Iodine, Iron and Zinc help to support a healthy stress response in the body as well as support brain function, memory and focus.
Adults take 1 capsule daily with food.

This product contains selenium which is toxic in high doses. A daily dose of 150 micrograms for adults of selenium from dietary supplements should not be exceeded. Do not take while on warfarin therapy without medical advice. Not for the treatment of iron deficiency conditions. Vitamin & mineral supplements should not replace a balanced diet. If symptoms persist talk to your healthcare professional. Do not use if tamper evidence seal is broken. Store below 25°C.
Each Vegan capsule contains: Iron (as iron (II) glycinate) 8mg, Zinc (as zinc citrate dihydrate) 10mg, Iodine (as potassium iodide) 150 microgram, Selenium (as selenomethionine) 100 microgram, Chromium (as chromic picolinate) 50 microgram, Colecalciferol (Vitashine™ Vit D3 1000IU) 25 microgram, Thiamine hydrochloride (Vit B1) 10mg, Riboflavin sodium phosphate (Vit B2) 10mg, Nicotinamide (Vit B3) 25mg, Calcium pantothenate (Vit B5) 20mg, Pyridoxine hydrochloride (Vit B6) 10mg, Pyridoxal 5-phosphate monohydrate (Vit B6) 5mg, Mecobalamin (co-methylcobalamin) (Vit B12) 500 microgram, Magnesium ascorbate monohydrate 112mg (equiv. ascorbic acid/Vit C) 100mg, Ubidecarenone (CoQ10) 60mg.

All ingredients are vegetarian and vegan friendly. This product does not contain animal products, dairy, lactose, gluten, nuts or genetically modified ingredients (GMO-free).
Australia
Free shipping within Australia on orders over $99
Standard Shipping: $10
Express shipping: $15
International Orders
We deliver to USA, Canada, New Zealand, Europe, UK and most countries throughout the world using carrier calculated rates at the checkout.
If you are unable to order in your location, please contact us for a quote.
For more details visit our shipping page.
It is often difficult to eat the sheer quantity of foods required to meet our body's nutritional needs when following a vegan or plant-based diet. This is a great little insurance policy to fill in any nutritional gaps.
- Lynsey
Why You Must Try It
See what others are saying