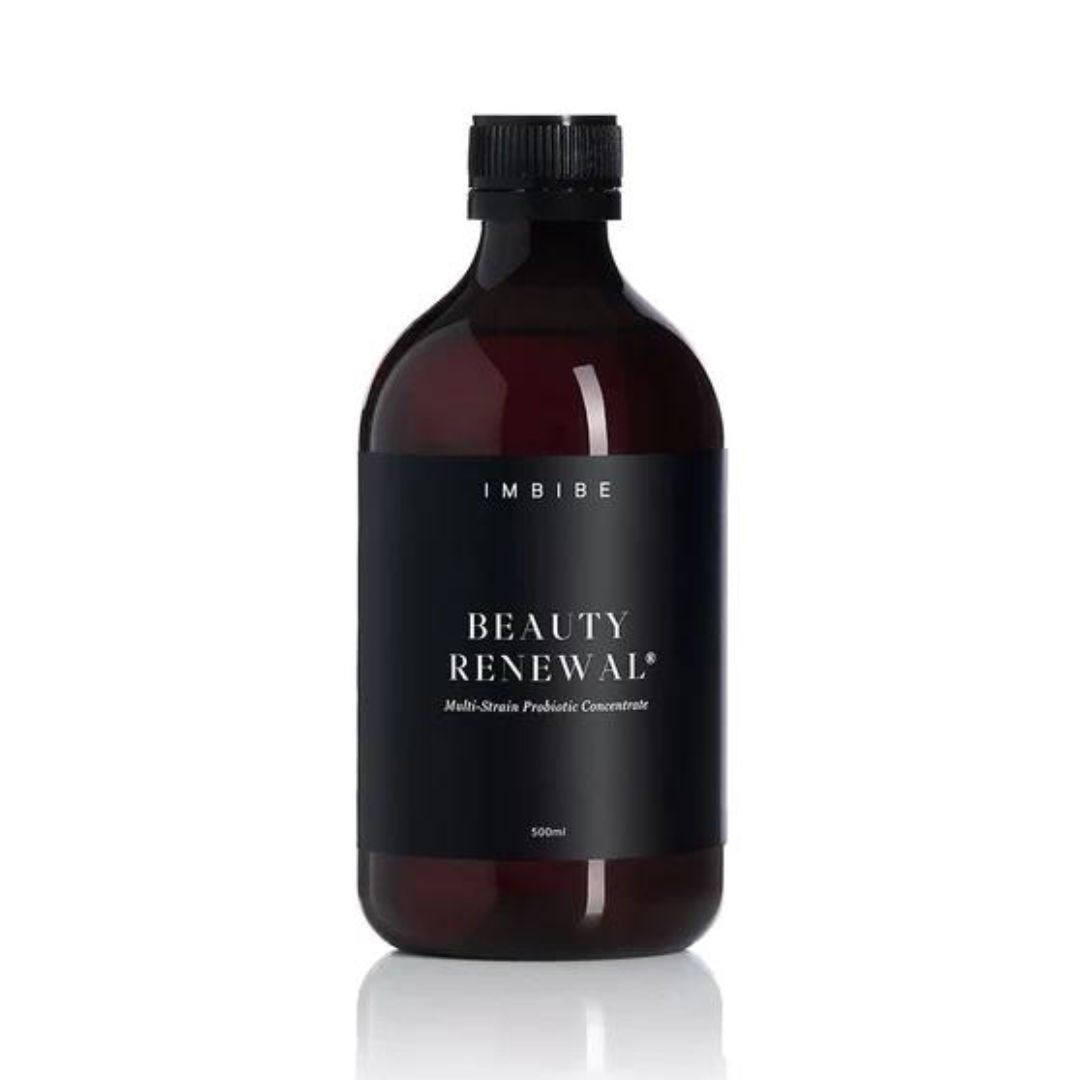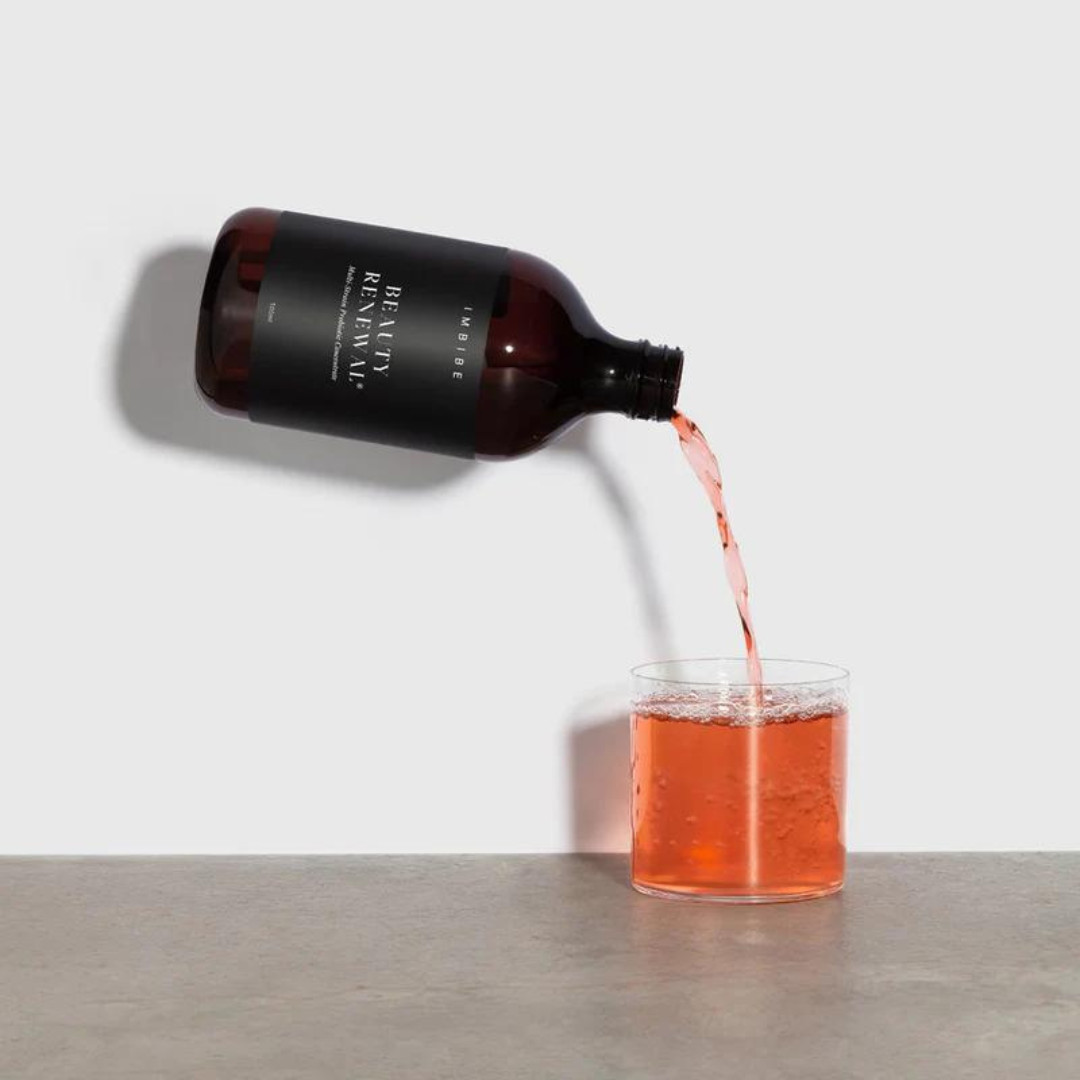 Beauty Renewal (500ml)
We know that skin health starts with gut health, and that's why we love this great-tasting probiotic concentrate made from coconut water for a happy gut and glowing skin.
Beauty Renewal is a 3-in-1 probiotic concentrate for microbial balance, gut health, hydration, absorption and cellular defence with a subtly sweet, naturally sugar-free taste.

Eight strains of probiotics are cultured from fermented coconut water to replenish the microbiome with diverse bacteria, while naturally occurring electrolytes, minerals, and antioxidants hydrate and replenish cells.
Add 15ml to 200ml of room temperature or cool water. Refrigerate once open and enjoy within 90 days.
Bio-active purified reverse osmosis water, bio-fermented coconut water, grape-seed, pomegranate, elderberry, natural vegetable sweetener (sustainable glycerol), lactobacillus acidophilus, lactobacillus casei, lactobacillus plantarum, lactobacillus bulgaricus, lactobacillus fermentum, bifidobacterium lactis, bifidobacterium bifidum, saccharomyces cerevisiae

Lactobacillus and bifidobacterium multi-strain probiotics - Serving a crucial purpose in the body's ability to digest and absorb nutrients as well as to produce certain hormones and chemical compounds in the intestinal system. Probiotics are known to be the cornerstone of a healthy microbiome, leading to improved mental health and immune function.

Pomegranate Extract Punica Granatum: Rich in antioxidants to support immunity, cellular defense and heart health

Elderberry Extract L. Sambucus Nigra: to reduce inflammation, lessen stress, and support healthy immunity

Grapeseed Extract Vitis Vinifera: containing high levels of vitamin E, and antioxidants to reduce damage to cells from free-radicals and environmental aggressors.

Bio-fermented Coconut: Fermented with eight strains of probiotics to restore microbial balance and healthy diversity of bacteria, while nutrients and minerals from extracts nourish the gut and overall wellness.
Australia
Free shipping within Australia on orders over $99
Standard Shipping: $10
Express shipping: $15
International Orders
We deliver to USA, Canada, New Zealand, Europe, UK and most countries throughout the world using carrier calculated rates at the checkout.
If you are unable to order in your location, please contact us for a quote.
For more details visit our shipping page.
A beautiful way to get a combination of probiotics and fermented polyphenols, both incredible for the gut. I like to put about 1 tablespoon in a cool drink 2-3 times per week.
- Lynsey
Why You Must Try It
See what others are saying
Total 5 star reviews: 2
Total 4 star reviews: 0
Total 3 star reviews: 0
Total 2 star reviews: 0
Total 1 star reviews: 0
100%
would recommend this product
Melanie J.

Verified Buyer

8 months ago

Sooo good

So yummy & so good for the tummy! Perfect as an add in to a refreshing drink.Skin is glowing & tummy is feeling settled

YM

You Must Try It

8 months ago

Amazing to hear! Enjoy the refreshment.
YMTI Team x

Tiffany J.

Verified Buyer

9 months ago

so far so yummy

tasted nice. a good substitute for an evening wine

too early to notice any health benefits

YM

You Must Try It

9 months ago

A lovely addition to your evening ritual. Enjoy!
YMTI Team x
Reviews Loaded
Reviews Added