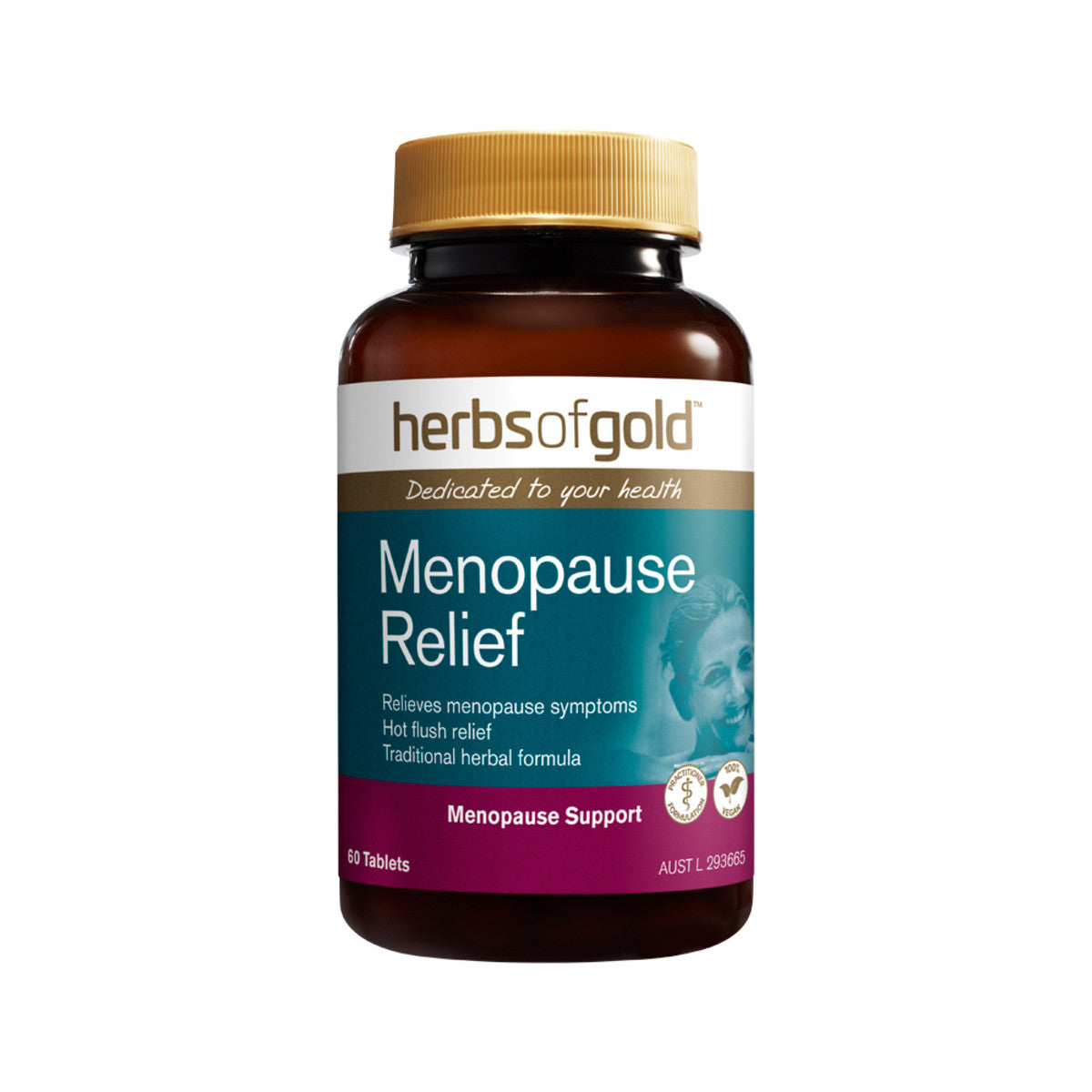 Herbs Of Gold Menopause 60t
Herbs of Gold Menopause Relief is a blend of herbs, including Sage to reduce the symptoms of menopause.
1 x Bottle contains 60 tablets - Take 1 tablet twice a day with food, or as directed by your health professional - 1 Bottle lasts 30 days. 
- Menopause Relief is formulated with traditional herbs Sage, Ziziphus, Shatavari and Vitex.
- Sage reduces the symptoms of menopause including hot flushes. Sage is traditionally used in Western herbal medicine to decrease excessive perspiration.
- Shatavari is traditionally used in Ayurvedic medicine as a rejuvenative tonic for females and to relieve hot flushes associated with menopause. Shatavari is a phytoestrogen that competes with oestrogen for oestrogen receptors in the body.
- Ziziphus is traditionally used in Chinese medicine to reduce spontaneous sweating, calm the spirit and relieve sleeplessness.
Take 1 tablet twice daily with food, or as directed by your health professional.
Each tablet contains:

Salvia officinalis (Sage) leaf extract - 300mg

derived from dry leaf - 1.5g

Ziziphus jujuba var. spinosa (Zizyphus) seed extract - 150mg

derived from dry seed - 1.5g

Asparagus racemosus (Shatavari) root extract - 88.24mg

derived from dry root - 1.5g

Vitex agnus-castus (Chaste tree) - 25mg

derived from dry fruit - 250mg

Does not contain egg, milk, peanut, soy, tree nuts, animal products, gluten, lactose or artificial colours, flavours or preservatives.

Vegan friendly.
Australia
Free shipping within Australia on orders over $99
Standard Shipping: $10
Express shipping: $15
International Orders
We deliver to USA, Canada, New Zealand, Europe, UK and most countries throughout the world using carrier calculated rates at the checkout.
If you are unable to order in your location, please contact us for a quote.
For more details visit our shipping page.
"You don't have to suffer the symptoms of menopause, there are great formulas like these to help manage symptoms and ease the transition." No-Tox Start a Menopause category?
- Lynsey
Why You Must Try It
See what others are saying