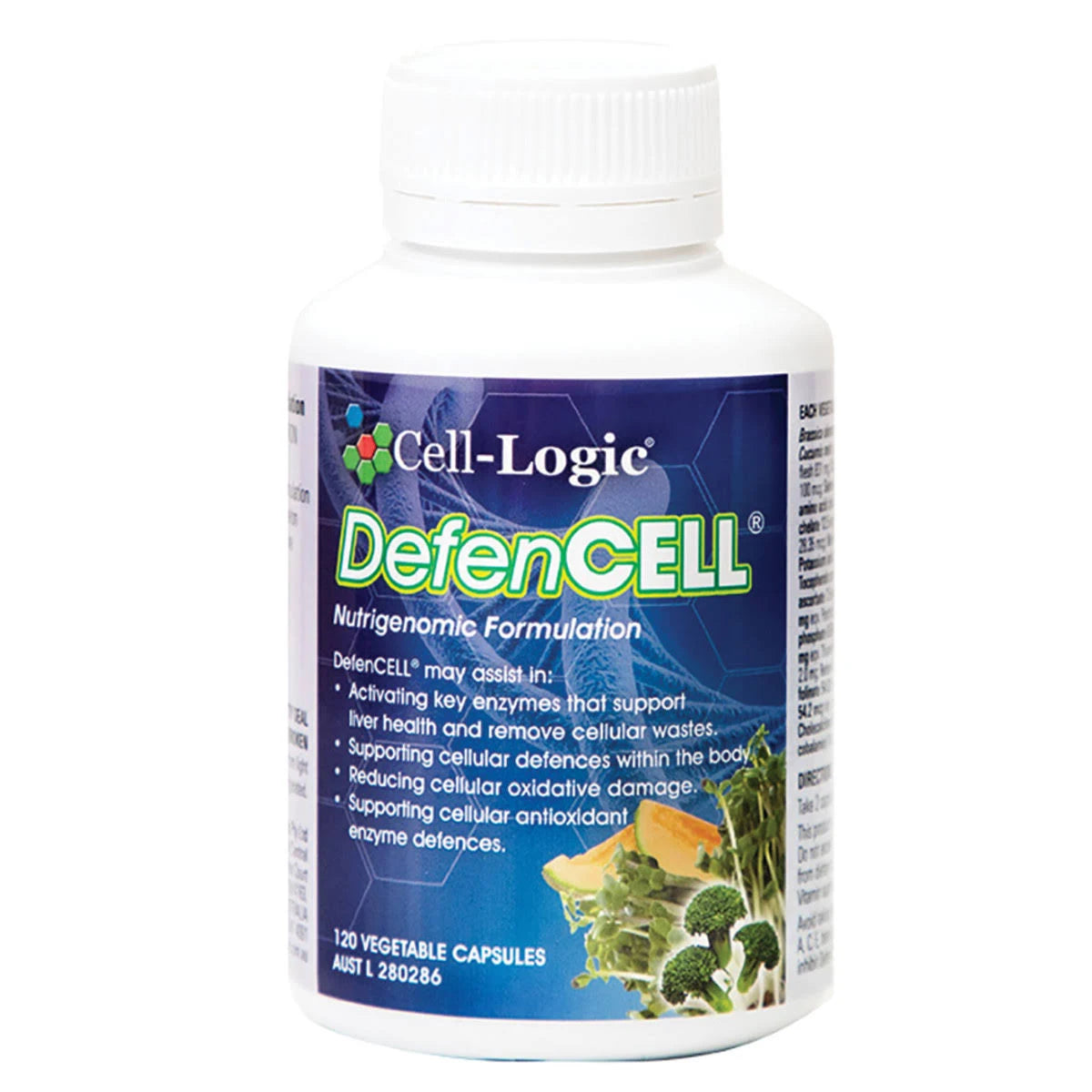 DefenCELL
Stand up for your cells! These great all-rounder supplements help protect them from DNA damage and also look after your cardiovascular system and liver.
DefenCELL® is the most comprehensive and advanced nutrigenomically-active supplement available. DefenCELL® may: Protect cells against DNA damage, maintain and support cardiovascular health, and maintain and support natural liver detoxification processes.

The unique formulation contains enzyme-active Broccoli Sprouts and a patented strain of French Cantaloupe, produced for its high levels of antioxidant enzymes.

These plant ingredients are combined with selected micronutrients to activate and support the body's natural cellular detoxification processes, and cell-protective and antioxidant defences.
Adults: Take two capsules twice daily with water. This product contains selenium which is toxic in high doses. For adults, a daily dose of 150 micrograms of selenium from dietary supplements should not be exceeded.

Vitamin supplements should not replace a balanced diet.

Each capsule contains 2.08 mg gliadin (a component of gluten), equivalent to the gluten content of a tiny breadcrumb.

Store below 30°C away from light and moisture.

May be refrigerated.

Very occasionally, gastro-intestinal adverse effects have been reported, and include nausea, gastro-abdominal discomfort and diarrhoea. Limited data available seem to indicate that such effects are limited to certain pre-existing gastro-intestinal conditions, in particular, those with dysbiosis. However, it has been observed that for those affected, the dose can be managed in a manner whereby the symptoms disappear and may not recur even after the consumption of larger doses.
Each DefenCELL Vegetable Capsule Contains:
Brassica oleracea var. italica sprout powder (EnduraCell®) 250 mg; Cucumis melo juice powder 831 mcg eqv. Cucumis melo fresh fruit flesh 831 mg; Chromic chloride hexahydrate 515 mcg eqv. Chromium 100 mcg; Selenomethionine 15.625 mcg eqv. Selenium 6.25 mcg; Zinc amino acid chelate 12.5 mg eqv. Zinc 2.5 mg; Manganese amino acid chelate 12.5 mg eqv. Manganese 1.25 mg; Borax 250 mcg eqv. Boron 28.35 mcg; Molybdenum trioxide 14.92 mcg eqv. Molybdenum 10 mcg; Potassium iodide 32.7 mcg eqv. Iodine 25 mcg eqv. Potassium 7.7 mcg; Tocopherols concentrate – mixed (low-alpha type) 3.9 mg; Calcium ascorbate 7.5 mg eqv. Ascorbic acid 6.18 mg; Calcium pantothenate 10.92 mg eqv. Pantothenic acid 10 mg; Nicotinamide 10 mg; Riboflavin sodium phosphate 6.58 mg eqv. Riboflavin 5.0 mg; Thiamine hydrochloride 6.25 mg eqv. Thiamine 5.57 mg; Pyridoxal-5-phosphate 2.9 mg eqv. Pyridoxine 2.0 mg; Retinol acetate 37.95 mcg eqv. Vitamin A (RE) 33 mcg; Calcium folinate 54.02 mcg eqv. Folinic acid 50 mcg; Levomefolate calcium 54.2 mcg eqv. Levomefolic acid 50 mcg; Biotin 10 mcg; Colecalciferol (Vitamin D3) 6.25mcg (250IU); Mecobalamin (co-methylcobalamin) (Vitamin B12) 12.5 mcg

NOTE: Cell-Logic EnduraCell® is hydroganically grown in a carefully controlled environment to maximise bioactivity. Our hydroganic growing process does not use any herbicides, pesticides or other harmful chemicals. DefenCELL® is GMO free.
Australia
Free shipping within Australia on orders over $99
Standard Shipping: $10
Express shipping: $15
International Orders
We deliver to USA, Canada, New Zealand, Europe, UK and most countries throughout the world using carrier calculated rates at the checkout.
If you are unable to order in your location, please contact us for a quote.
For more details visit our shipping page.
I love this multi nutrient nutrigenomic formula. It has all the quality forms of nutrients to support the body's cellular health.

Take 2 caps once or twice daily with water.
- Lynsey
Why You Must Try It
See what others are saying