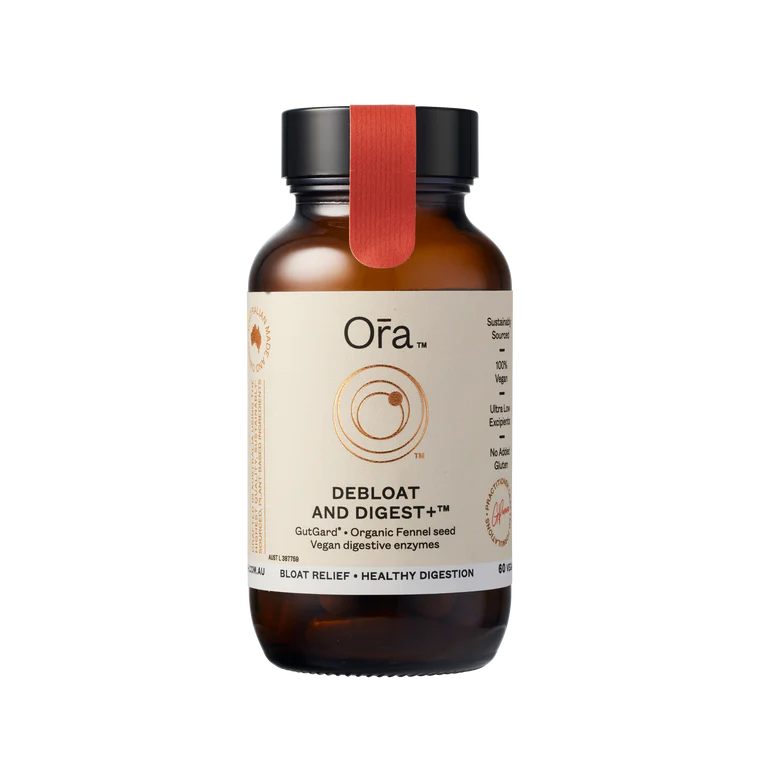 Debloat & Digest+ 60vc
A synergistic blend of the clinically-tested GutGard® shown in clinical studies to relieve abdominal pain, bloating and discomfort with organic fennel seed and vegan digestive enzymes to help reduce indigestion and distention and support healthy digestion.
1 x Bottle contains 60 Capsules - Take 1 Capsule twice a day at meal times, or as recommended by your healthcare practitioner. 1 x Bottle to last 30 days. 
- Relieves and reduce occurrence of abdominal bloating
- Relieves symptoms of indigestion and dyspepsia
- Relieves symptoms of heartburn
- Reduces wind and gas pain
- Assists with digestion of protein, carbohydrates, fat and plant fibres
- Supports healthy digestion
Take one capsule twice daily at meal times, or as recommended by your healthcare practitioner.

Always read the label. Follow the directions for use. If symptoms persist, worsen, or change unexpectedly, talk to your healthcare professional.

A daily dose (two capsules) contains:

Glycyrrhiza glabra (GutGard® deglycyrrhized Liquorice) root ext. dry conc. 150mg
from dry root 4.13g

Foeniculum vulgare (Organic Fennel) seed ext. dry conc. 200mg
from dry seed 2g

Papain 16mg

Bromelain 25 mg

Amylase (derived from Aspergillus oryzae) 30 mg

Protease (derived from Aspergillus oryzae) 9 mg

Lipase (derived from Rhizopus oryzae) 2.5 mg

Cellulase (derived from Trichoderma reesei) 5 mg

No added yeast, soy, sugars, lactose, gluten, artificial colourings, dairy, or animal products.
Australia
Free shipping within Australia on orders over $99
Standard Shipping: $10
Express shipping: $15
International Orders
We deliver to USA, Canada, New Zealand, Europe, UK and most countries throughout the world using carrier calculated rates at the checkout.
If you are unable to order in your location, please contact us for a quote.
For more details visit our shipping page.
"A fantastic way to support your digestion with the assistance of natural and food derived enzymes."
- Lynsey
Why You Must Try It
See what others are saying