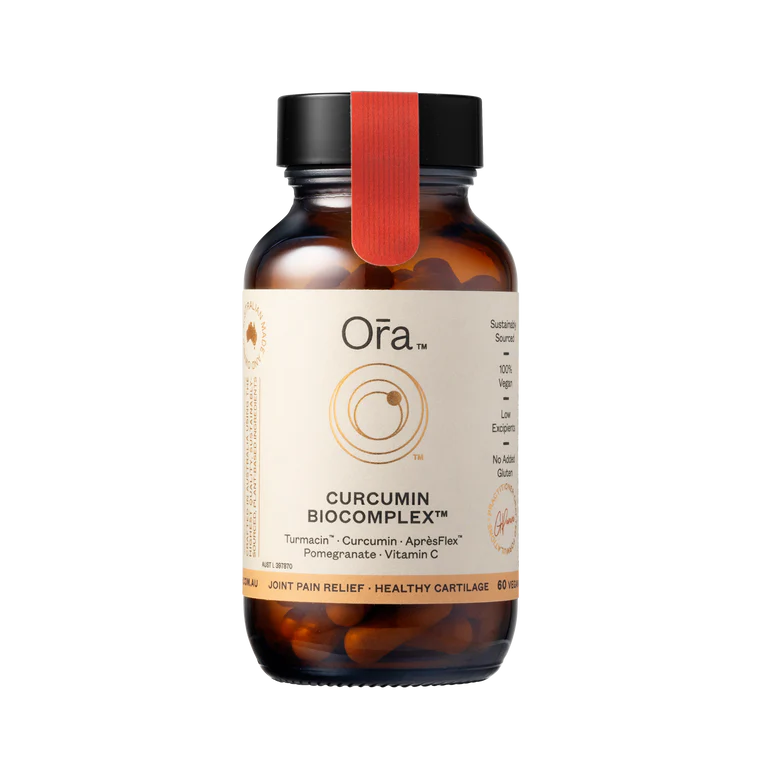 Curcumin BioComplex 60vc
A high-potency formulation with clinically-trialled Turmacin™ Curcuma longa traditionally used in Ayurvedic medicine to relieve symptoms of mild osteoarthritis, AprèsFlex™ Boswellia serrata traditionally used in Western herbal medicine to relieve mild joint aches and support joint mobility and Vitamin C to support collagen formation and connective tissue health. 
60 Capsules - Take 2-4 Capsules daily or as recommended by your healthcare preactitioner. 1 x Bottle will last 30 days with 2/day or 15 days with 4/day
- Reduces and relieves mild joint aches and pains
- Relieves symptoms of mild arthritis and osteoarthritis
- Supports joint mobility and flexibility
- Decreases mild joint inflammation and swelling
- Supports joint cartilage and connective tissue health
- Supports connective tissue production and formation
- Reduces free radicals formation and damage
Take two to four capsules daily or as recommended by your healthcare practitioner.

Always read the label. Follow the directions for use. If symptoms persist, worsen, or change unexpectedly, talk to your healthcare professional.
Two capsules (minimum dose) contains:

Curcuma longa L. (Turmacin™) rhizome ext. dry conc. - 400mg
equiv. Curcuma longa L. rhizome dry 5.2g

Curcuma longa (Turmeric) rhizome ext. dry conc. std. 100mg
equiv. Curcuma longa rhizome dry 2.5g
equiv. Curcuminoids NLT 95% 95mg

Boswellia serrata (AprèsFlex™) gum ext. dry conc. 100mg
equiv. Boswellia serrata gum dry 1.4g
equiv. 3-O-Acetyl-11-Keto-β-Boswellic acid 20% 20mg

Punica granatum (Pomegranate) fruit peel ext. dry conc. 40mg
equiv. Punica granatum fruit peel dry 2g

Magnesium ascorbate monohydrate 224.16mg
equiv. Ascorbic acid 200 mg

No added yeast, soy, sugars, lactose, gluten, artificial colourings, dairy, or animal products.
Australia
Free shipping within Australia on orders over $99
Standard Shipping: $10
Express shipping: $15
International Orders
We deliver to USA, Canada, New Zealand, Europe, UK and most countries throughout the world using carrier calculated rates at the checkout.
If you are unable to order in your location, please contact us for a quote.
For more details visit our shipping page.
"Turmeric and frankincense are two of the most powerful anti-inflammatories we have to naturally manage inflammation and pain."
- Lynsey
Why You Must Try It
See what others are saying