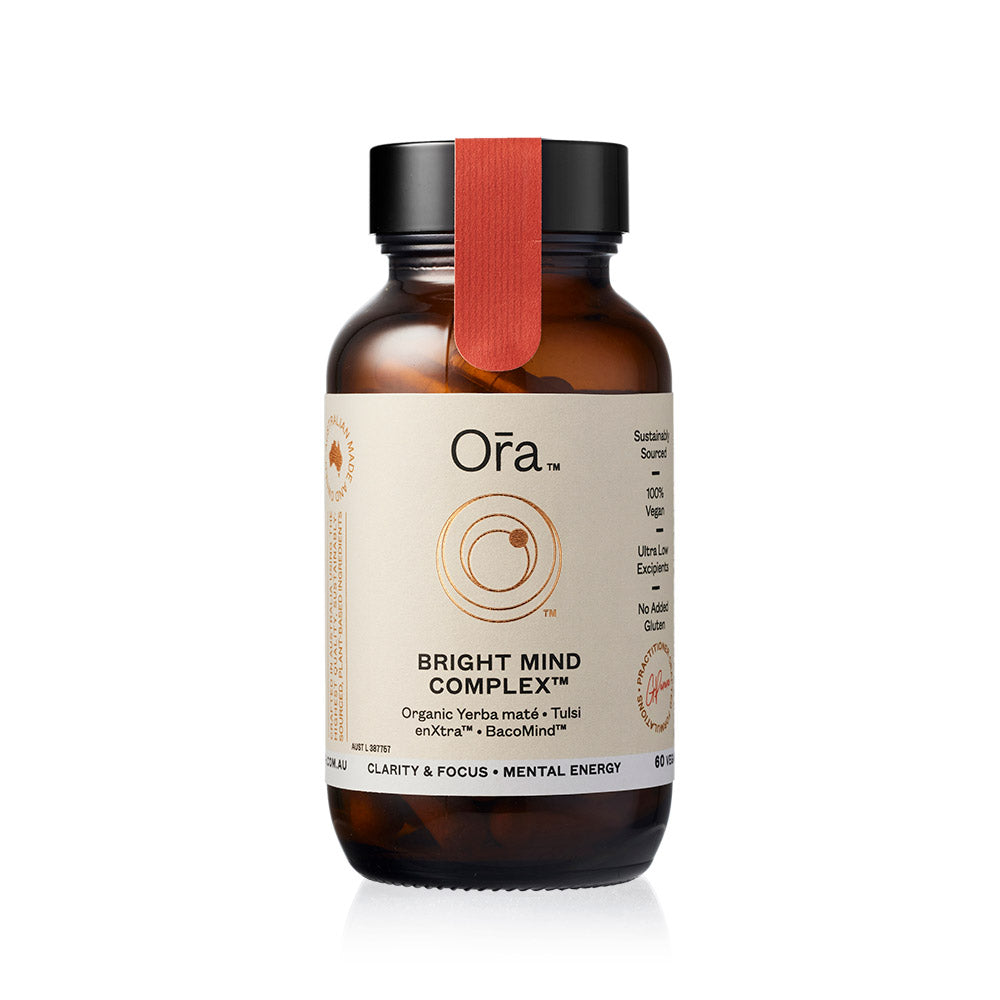 Bright Mind Complex 60 Caps
Get the most out of your brain to perform at your peak with enhanced clarity, focus and calm energy.
A powerful cognitive formulation with clinically-evidenced ingredients enXtra™ and BacoMind™ for enhancing mental alertness, cognitive performance and memory, and Yerba Maté, traditionally used in Western Herbal Medicine to decrease mental fatigue.

Benefits

Enhance mental alertness and wakefulness without any caffeine crash

Support mental concentration, focus and clarity

Enhance memory and recall

Increase attention span

Reduce cognitive fatigue

Help the body adapt to stress

FAQs
Does Bright Mind Complex contain caffeine?

Bright Mind Complex contains Yerba Maté, the naturally caffeinated leaves of the Ilex paraguariensis plant. Each capsule contains 5 to 7.5 mg of caffeine. By comparison, a cup of green tea contains 20 to 50 mg of caffeine, while a cup of instant coffee contains approximately 80 mg of caffeine.

Is Bright Mind Complex™ safe to use during pregnancy and breastfeeding?
Ora Health recommend avoiding Bright Mind Complex™ during pregnancy and breastfeeding."
Take two capsules per day with meals, or as recommended by your healthcare practitioner.

Always read the label. Follow the directions for use. If symptoms persist, worsen, or change unexpectedly, talk to your healthcare professional.
A daily dose (two capsules) contains:

Alpinia galanga (enXtra™ Galangal) rhizome ext. dry conc. 300mg
from dry rhizome 3g

Bacopa monnieri (BacoMind™ Bacopa) whole plant ext. dry conc. 300mg
from dry whole plant 6g

Ocimum sanctum (Holy basil) leaf ext. dry conc. 160mg
from dry leaf 1.6g

Ilex paraguariensis (Organic Yerba Maté) leaf ext. dry conc. 500mg
from dry leaf 2g

No added yeast, soy, sugars, lactose, gluten, artificial colourings, dairy, or animal products.
Australia
Free shipping within Australia on orders over $99
Standard Shipping: $10
Express shipping: $15
International Orders
We deliver to USA, Canada, New Zealand, Europe, UK and most countries throughout the world using carrier calculated rates at the checkout.
If you are unable to order in your location, please contact us for a quote.
For more details visit our shipping page.
Great way to nutritionally support my brain health and improve circulation to this important organ.
- Lynsey
Why You Must Try It
See what others are saying