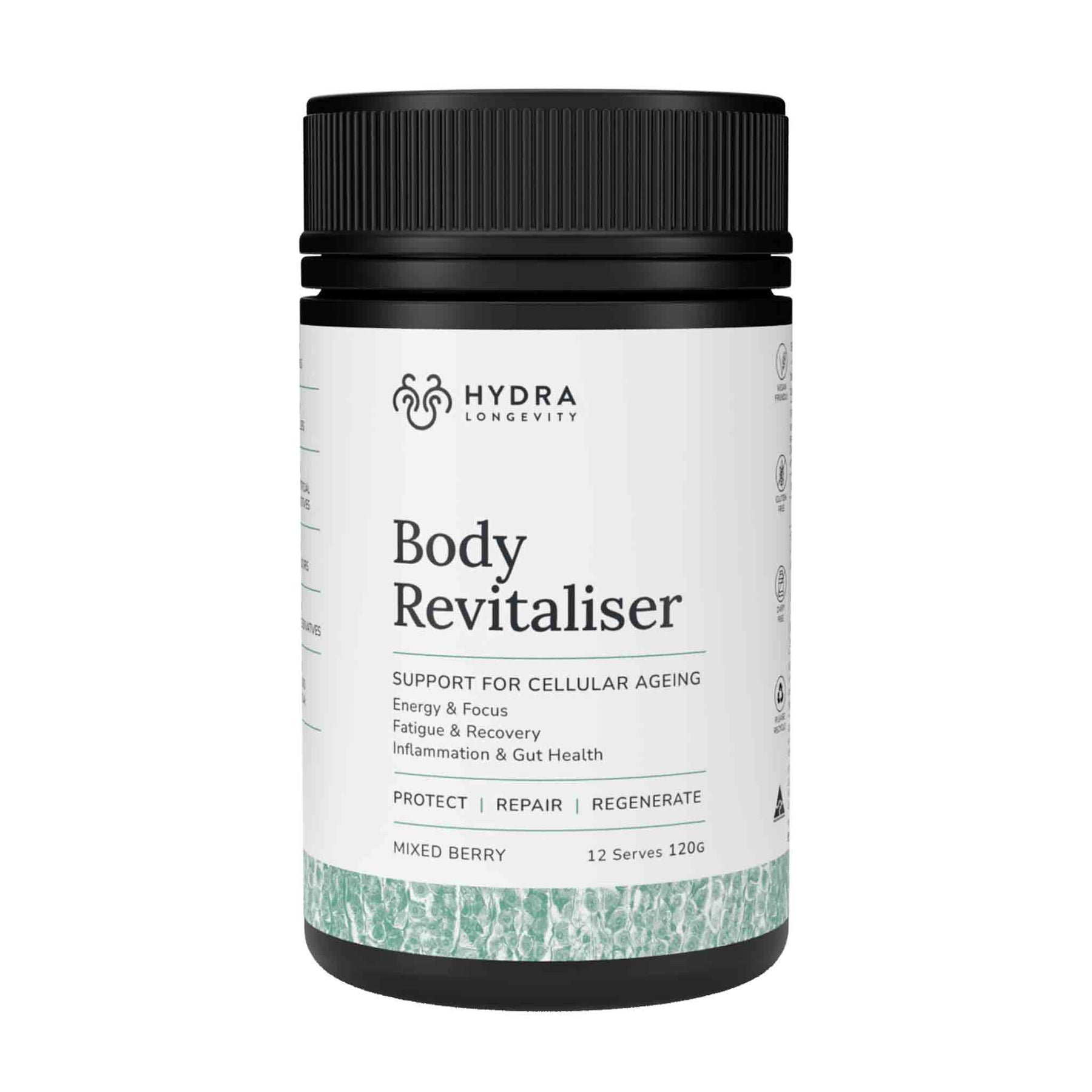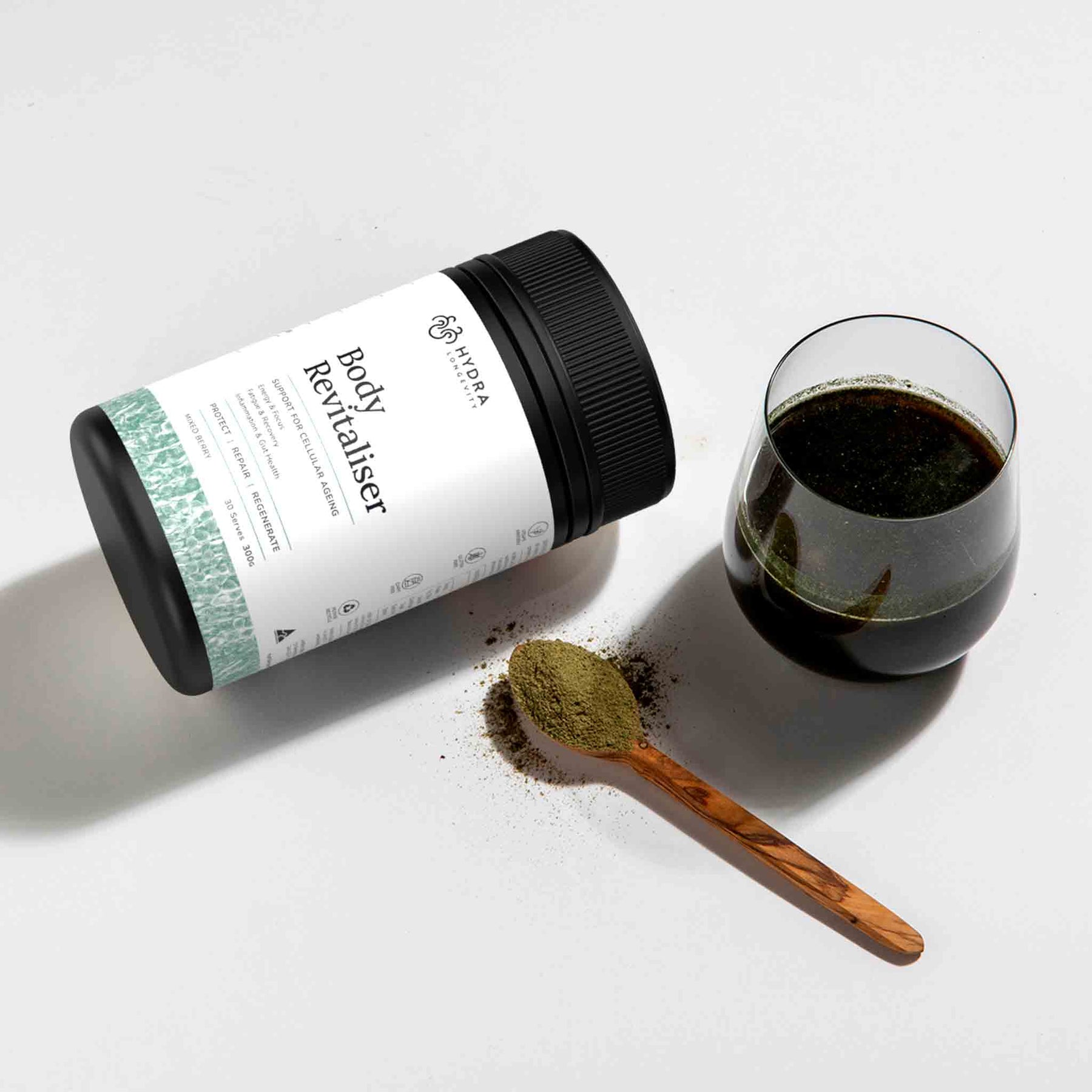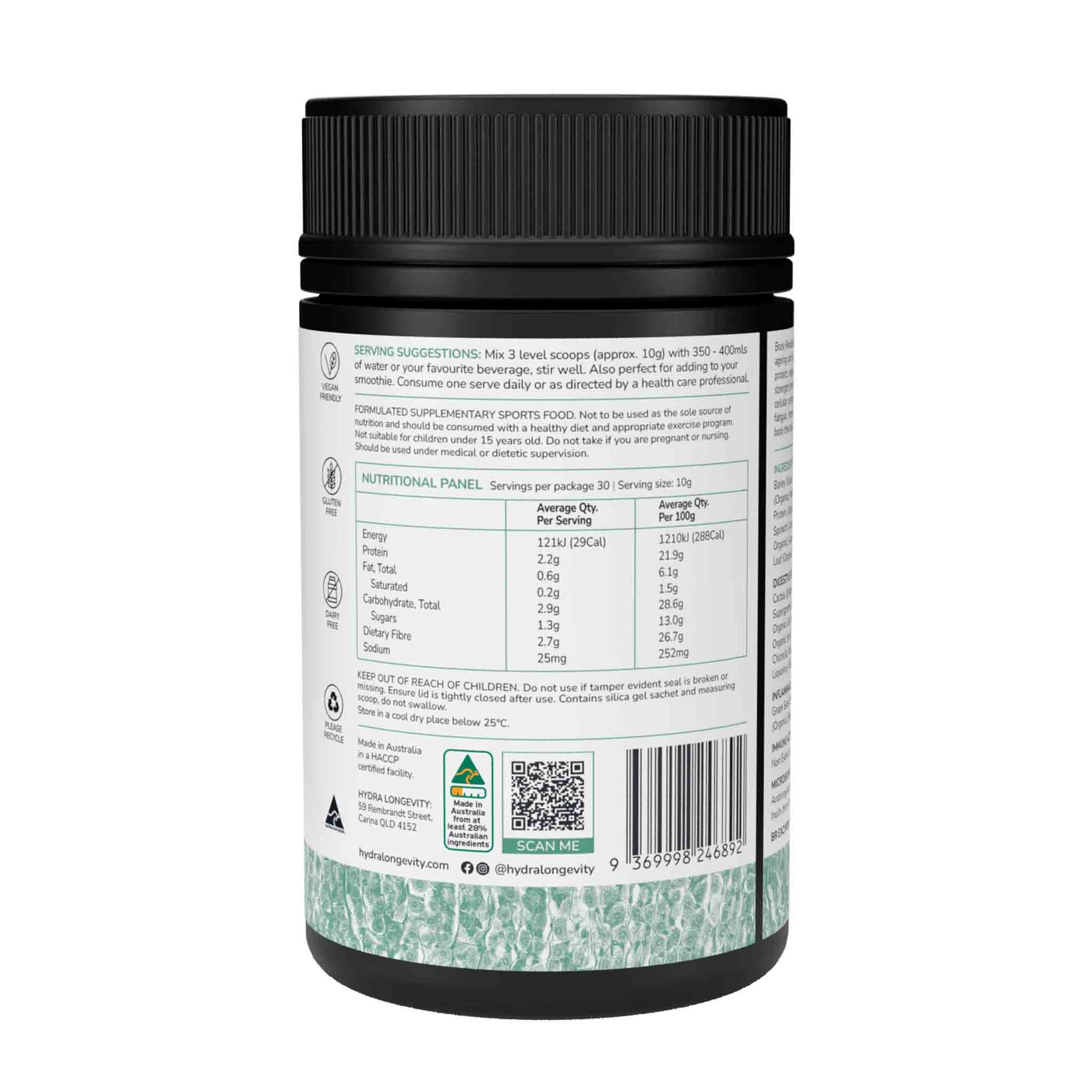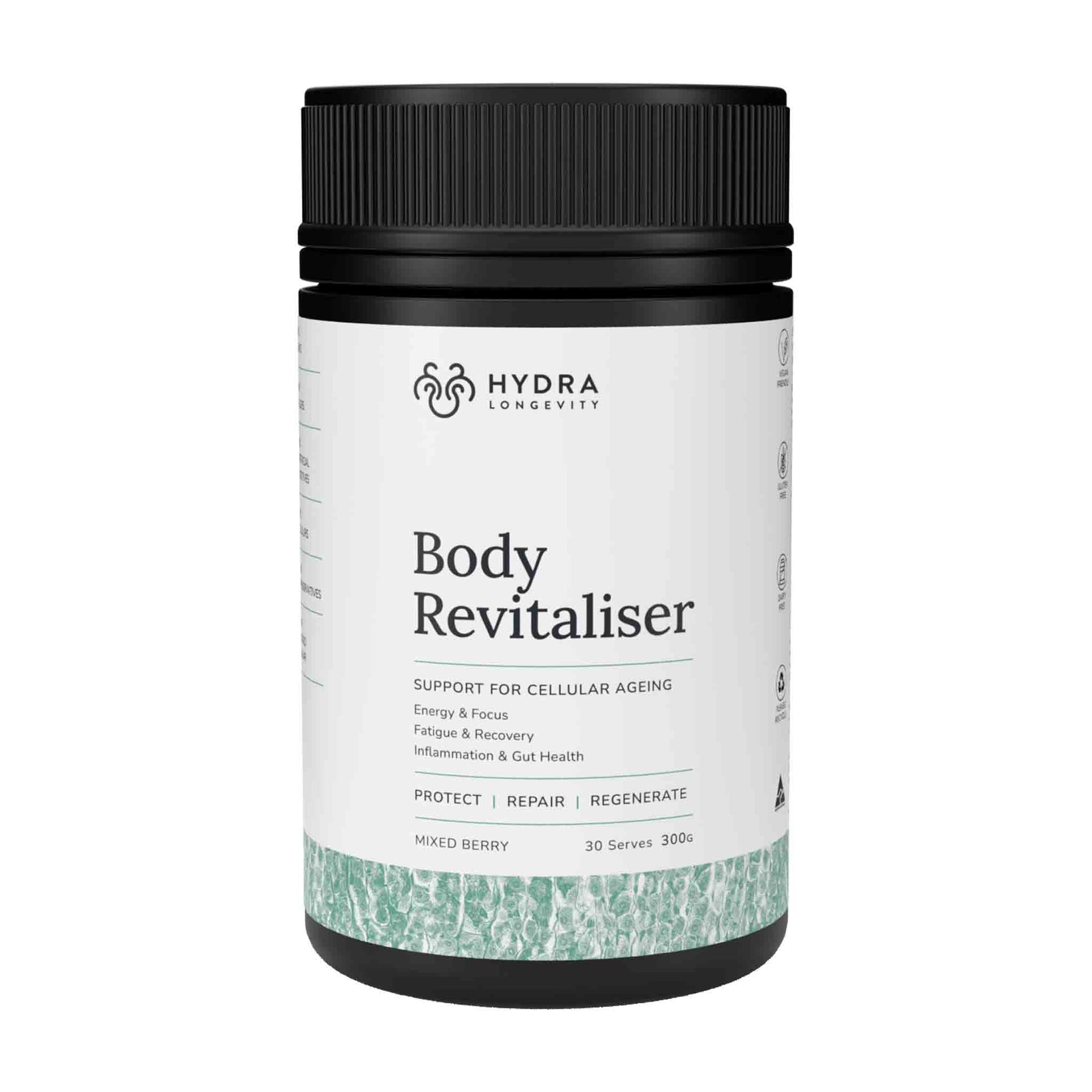 Body Revitaliser Essentials (120g or 300g)
You know that delightful grassy flavour all green superfood products normally have? Not this one! It tastes great, and it'll make you feel great too.
Formulated by a clinical naturopath and longevity specialist, this powerful blend of natural functional foods in therapeutic doses combats mental and physical fatigue, stress, and general feelings of 'blah' to help you bounce back to feeling great.
Servings per package: 120g - 12 (12 days); 300g - 30 (30 days)

Serving size: Mix 10g (3 scoops) with 350 - 450mls of water or your favourite beverage, stir well. Also perfect for adding to your smoothie.

Consume one serve daily or as directed by a health care professional.
Cellular Energy Stack (4350mg):
Green Barley Grass (Organic), Wheat Grass (Organic), Spirulina (Organic), Moringa Leaf (Organic), Lecithin (Sunflower), Pea Protein (Organic), Bacopa Monnieri (Organic), Rosehip (Organic), Spinach, Coconut MCT Oil (Organic), Chlorella (Cracked Cell, Organic), Acai Berry (Organic), Peppermint (Organic), Celery Leaf (Organic), Rosemary (Organic), Carob (Organic), Chia Flour, Kelp

Digestive Restore Stack (1480mg):
L-Glutamine, Nopal Cactus, Slippery Elm, Aloe Vera (Organic), Organic Fermented Supergreens (Organic Barley Grass, Organic Alfalfa Grass, Organic Oat Grass, Organic Wheat Grass, Organic Spirulina, Organic Yam, Organic Dunaliella Salina, Organic Agave, Chlorella, Kelp), DMG (Dimethyl Glycine), Deglycyrrhizinated Liquorice, MSM (Methyl Sulfonyl Methane), Bamboo Extract (Silica)

Inflammageing Stack (1590mg):
Pomegranate Juice, Grape Seed Extract, Ginger, Yucca, Bilberry (Organic), Blueberry (Organic), Beetroot

Immune Activate Stack (390mg):
Goji Berry (Organic), Noni Extract (10:1), Reishi Mushroom, Zinc Gluconate

Microbiome Prebiotic Stack (1300mg):
Larch Arabinogalactan, Australian Green Banana Resistant Starch (Organic), Inulin (from Organic Jerusalem Artichoke), Guar Gum, Acacia Gum
Australia
Free shipping within Australia on orders over $99
Standard Shipping: $10
Express shipping: $15
International Orders
We deliver to USA, Canada, New Zealand, Europe, UK and most countries throughout the world using carrier calculated rates at the checkout.
If you are unable to order in your location, please contact us for a quote.
For more details visit our shipping page.
Mitochondria are the energy powerhouses in all our cells and have such an impact on our cellular health. If you are fatigued and can't recover from illness a bit of mitochondrial support can go a long way.

I prefer to take 3 scoops in the first half of the day to fuel my body and give me vitality to get through my day.
- Lynsey
Why You Must Try It
See what others are saying