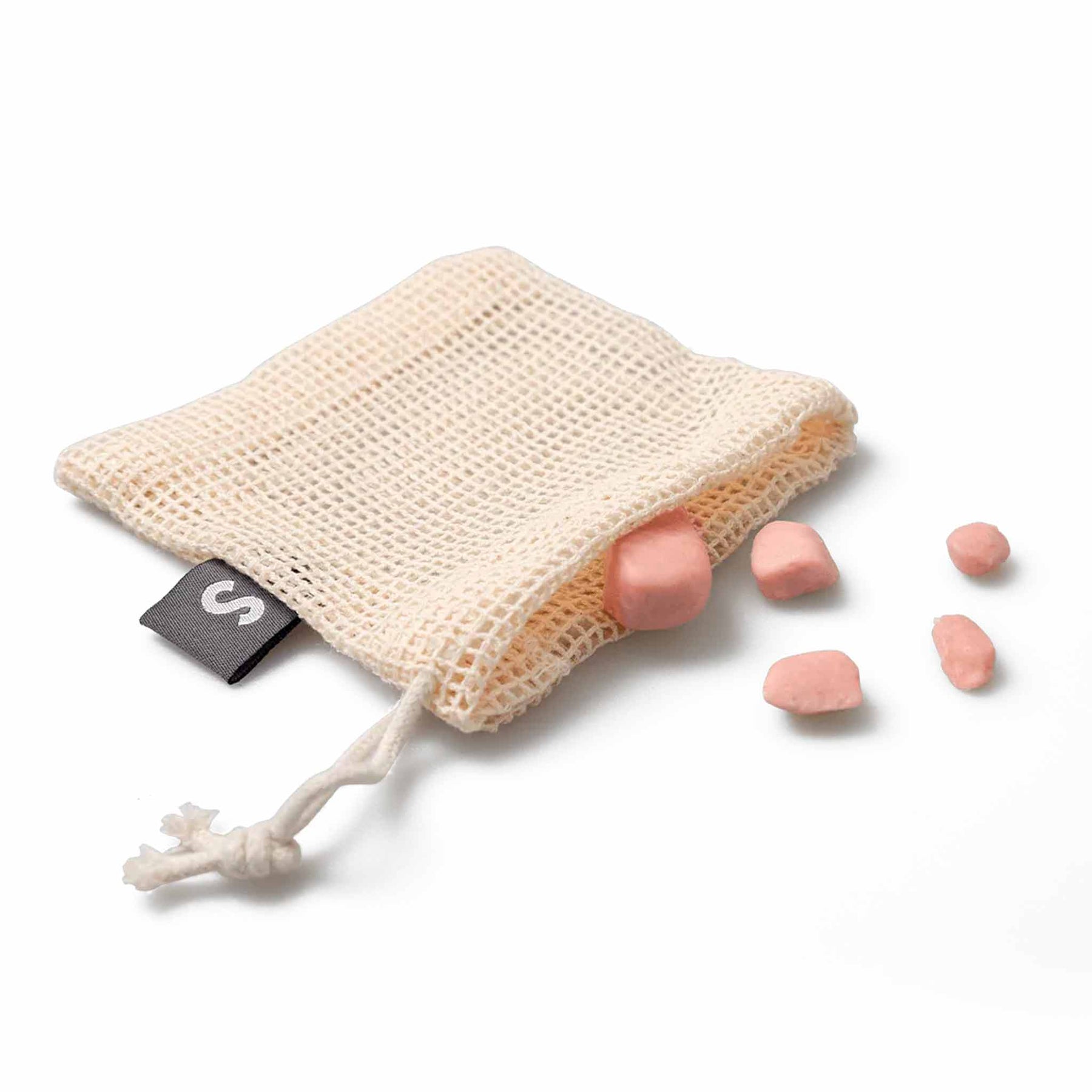 Bits Bags Shampoo
Waste not, want not! Save the tricky little end pieces of your shampoo bar in this handy bag to ensure you use every last bit.
Get more bar from your bits. NueBar are HUGE on trying to reduce our waste, and they've realised that the wee bits of bar that you're left with at the end of a NueBar's life still pack quite the punch, they're just very tricky to use at that size.
Whilst these bags will fit a full-sized bar and can be used as bar holders from day one, NueBar generally recommends only using them when your bar breaks into two or more pieces.

Using them this way achieves maximum lifespan for both your bars and the bags.

When you have finished using your bag, wash in the washing machine and dry completely before storing. Get it back out again when you need it.

Your bag should last many cycles when used this way. When it does start to fall apart it can be cut into pieces and placed in the compost.
These bags are made from 100% cotton. The preservative system in NueBar's shampoo bar will help prevent the bags from moulding when in use. Bags that are stored damp without containing any bars (hanging in shower empty) will be prone to mould growth.
Australia
Free shipping within Australia on orders over $99
Standard Shipping: $10
Express shipping: $15
International Orders
We deliver to USA, Canada, New Zealand, Europe, UK and most countries throughout the world using carrier calculated rates at the checkout.
If you are unable to order in your location, please contact us for a quote.
For more details visit our shipping page.
Such a good idea! You don't have to throw away all the soap bits and can use them in the bag.

Labelled with a C so you don't mix up your shampoo and conditioner pieces.
- Lynsey
Why You Must Try It
See what others are saying